Don't miss the latest stories
Share this
TIME Cover Illustrates Before & After Of Art By Beeple, Whose NFT Sold For $69M
By Mikelle Leow, 28 Apr 2021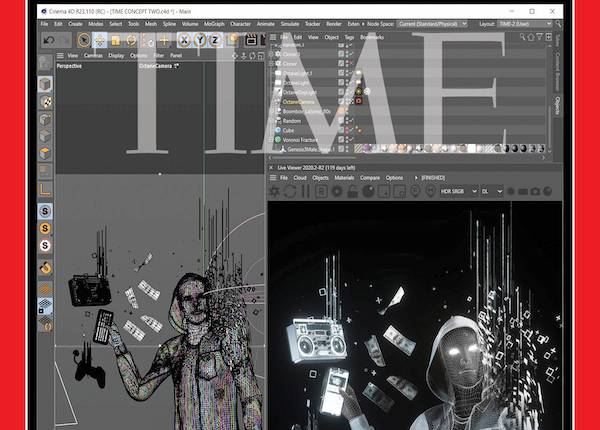 Image via TIME
Every day since
2007, digital artist Mike Winkelmann—more famously known by his online moniker, Beeple—creates a new artwork and uploads it online. His dedication and unique abstract style certainly earned him a loyal following over the past years, but if you still hadn't heard of Beeple then, his
record-breaking US$69 million sale
of a non-fungible token (NFT) ought to do it.
The May 10 cover
of
TIME
magazine puts Winkelmann's art front and center as a preface to its main story about "the future of business and the digitization of everything," acknowledging Beeple's position as an art pioneer in the digital age.
The cover art
portrays Beeple's work process on his actual computer interface, and includes a wireframe render alongside a more finished picture. 3D animation software Cinema 4D and rendering app OctaneRender are programs he works with frequently, and his go-to tools are referenced in the cover, as well.
According to TIME
creative director D.W. Pine, the artist intended to showcase the behind-the-scenes process of his work "to depict the stratospheric acceleration of the digitization of our world."
Beeple explained in
the cover story, "With this artwork I wanted to show how everyone is becoming more digital as more and more of our interests and identity are moving online… People's sense of self is quickly becoming a mix of real and virtual."
On Instagram,
the artist touched on a second reason behind spotlighting an unfinished image: "I wanted to show my canvas to illustrate that these works do not 'magically' appear by pure virtue of being digital. There is a massive amount of very conscious artistic choices that go into each piece." Seeing as how he releases new artwork daily, this might be an easy assumption to make. In fact, a '
Beeple Generator
' was created following his historic sale of a single JPG, encouraging anyone to make bank in the NFT art market with a simple click of a button.
TIME magazine itself
has dipped its toes into the NFT field, recently publishing
three exclusive NFT covers
for auction.
On March 10, 2021,
Beeple's
Everydays — The First 5000 Days
, a collage of artworks from the first 5,000 days of his daily project, was
sold for US$69.3 million
with fees at Christie's. Not only was it the auction house's first wholly digital NFT, but it also became the most expensive digital asset ever to be paired with a digital certificate of authenticity.
Everyday's — The First 5000 Days
stands as the third-most-expensive artwork from a living artist to be auctioned off. It has surpassed prices anyone has ever bid for work by Frida Kahlo, Salvador Dalí, and Paul Gaugin, and puts Beeple after Jeff Koons and David Hockney in the race for most expensive work by a living artist to be auctioned off.
Thankfully, this piece
of Beeple art won't set you back millions of dollars.
[via
TIME
]
Receive interesting stories like this one in your inbox
Also check out these recent news