Don't miss the latest stories
Share this
London Underground Station's Studio Ghibli Drawings Are Animating People's Day
By Mikelle Leow, 07 May 2021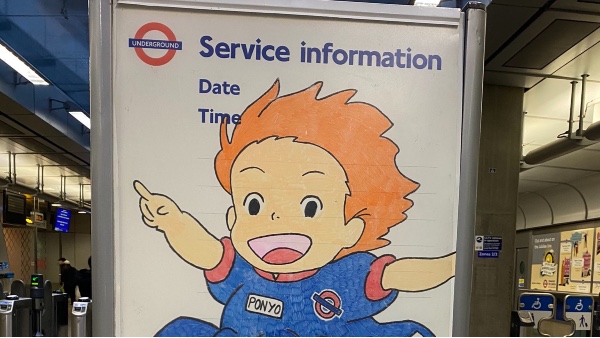 Image via CanningTownTube
Commuting isn't exactly
the most enjoyable way to spend your time, but if Canning Town station in London is one of your regular stops, it shouldn't all seem so mundane.
That's because
the London tube station's boards are regularly updated with vibrant pop-culture drawings by a staffer to cheer commuters up. The rest of the world has now been blessed with the opportunity to enjoy them too, as a number of Studio Ghibli-inspired artworks at the station have made their rounds.
The board drawings
and their creation processes are shared on a Twitter account called
@TownTube
. Its owner is moved by the positive attention that the account has accrued over the years, writing in one post, "It brings me great joy to make customers smile."
Leveraging what little
space he is given, the employee illustrates characters like No-Face, Porco Rosso, Ponyo, and more. At times, he only has a few colors to work with, but that hasn't stopped him from lighting up passengers' day.
Especially encouraging is
how the artist's style has evolved over the years. Enjoy the drawings below, and explore more
here
.
There's a weeb working for the London Underground and they get to draw on the boards and I'm genuinely impressed @TownTube pic.twitter.com/NI061lHNYW

— Anisa Sanusi 🌙 أنيسا سنوسي (@studioanisa) May 6, 2021
We have a new recruit. #ghibli #ghibliredraw #whiteboard pic.twitter.com/bcA8J0dVeb

— CanningTownTube (@TownTube) April 30, 2021
Colour added and finished. pic.twitter.com/c5Fxl4Cg3e

— CanningTownTube (@TownTube) April 22, 2021
Decided to add colour. #Ghibli #AnimeJapan pic.twitter.com/0yQOCmYZAB

— CanningTownTube (@TownTube) April 20, 2021
These have been some of the past favourites. It's strange looking back and seeing where you've improved. pic.twitter.com/shHXIBGtnU

— CanningTownTube (@TownTube) May 6, 2021
Here you go. pic.twitter.com/lZ37phfRt1

— CanningTownTube (@TownTube) October 24, 2019
Work in progress pic.twitter.com/SSIANotknJ

— CanningTownTube (@TownTube) July 15, 2019
Finished pic.twitter.com/wI1nV3ucA6

— CanningTownTube (@TownTube) July 25, 2019
Finished product and thanks for all the support. pic.twitter.com/N4dee1wKqC

— CanningTownTube (@TownTube) July 19, 2019
[via
Anisa Sunasi
, images via
CanningTownTube
]
Receive interesting stories like this one in your inbox
Also check out these recent news