Don't miss the latest stories
Share this
IKEA Imagines A Future Smart Home That Turns Devices Into Fun Roommates
By Mikelle Leow, 27 May 2021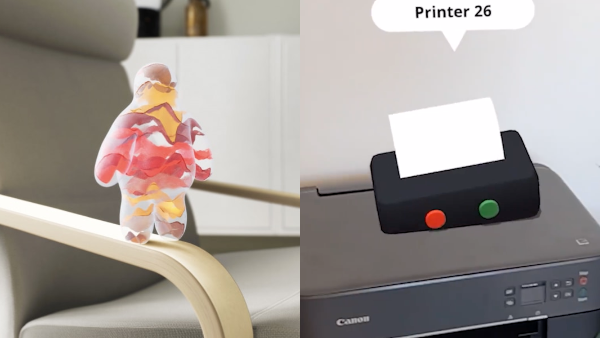 Images via IKEA and Space10
As helpful as
voice assistants like Siri and Google Assistant might have been, their interactions with humans are quite cold and impersonal. It's little wonder people perceive them to be part of a dystopian future.
IKEA, however,
is confident that smart devices can be friends, rather than frenemies. As part of an innovative
Everyday Experiments
project by its design and research lab
Space10
, design and technology studios were enlisted to envision a future involving a "more trustworthy and (most importantly) more fun" smart home that respects your privacy.
The creators
deduced that for people to fully welcome smart technology into their most vulnerable spaces, it would have to be a companion—essentially a roommate. And it's not going to just live rent-free in your house; it will be there to help you navigate the oft-stressful digital space.
One of the concepts
revealed is the
Digital Buddy
by creative studio
FIELD.SYSTEMS
, a 3D bubble-like avatar that humanizes complicated terms and conditions (T&C) of tech services. The AI technology translates confusing T&C jargon into text for a layman, as well as points out any red flags.
To cushion
this stressful process, your
Digital Buddy
will also react to the information with verbal and visual gestures. "In order to truly trust a
Digital Buddy
, we need to build a relationship with it and be able to read its virtual cues," FIELD.SYSTEMS explains. "This is why the human motion-captured movements behind our character are so important."
Another project
in the same vein is the gang of
Invisible Roommates
dreamed up by
Nicole He
, an independent game developer; and
Eran Hilleli
, an artist and animation director. The duo visualized adorable AR character counterparts to real-life devices that fly paper airplanes at each other when data is transferred from one device to another.
For instance,
when your computer is communicating with your printer, its virtual double will toss paper airplanes at the printer in the AR world. "We wanted to reflect the ambiguity around data by presenting the devices in a way that mirrors the joy we can get from them," describes Hilleli, "but at the same time, reveal some of the invisible things that go on with and between them in real-time."
You can explore
more experimental Space10 projects centered around home data and privacy
here
.
[via
Fast Company
, videos and images via
Space10
]
Receive interesting stories like this one in your inbox
Also check out these recent news