Don't miss the latest stories
Share this
NASA Is Designing An Asteroid-Hunting Telescope To Block Dangerous Space Objects
By Alexa Heah, 14 Jun 2021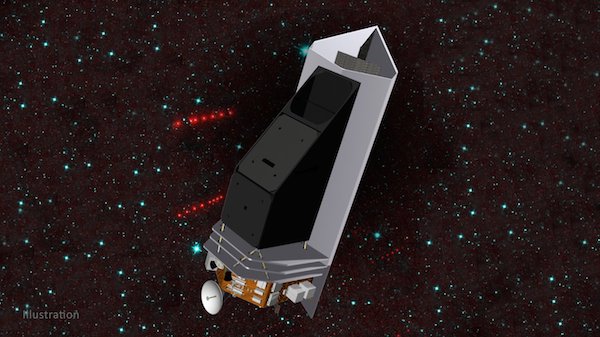 Image via NASA/JPL-Caltech
The US National
Aeronautics and Space Administration (NASA) has approved plans to build an infrared space telescope that can be used to detect asteroids that might threaten safety on Earth.
The agency
has unveiled its plans to move to the next phase of developing the Near-Earth Object Surveyor space telescope (NEO Surveyor) following a successful mission review, according to
NASA's Jet Propulsion Laboratory
.
The NEO Surveyor
will help Earth's "planetary defense efforts" by helping to spot potentially hazardous asteroids and comets within 30 million miles of the planet's orbit.
Discovering, characterizing,
and tracking these potentially hazardous near-Earth objects is crucial to ensure preparations can be made to mitigate any impact, said NASA.
If an asteroid-hunting
telescope sounds ominous, fret not. There are currently no known impact threats to Earth for the next century, though the production of the NEO Surveyor will help prevent unpredicted impacts, such as
the 2013 Chelyabinsk event in Russia
, when an unprecedented asteroid exploded over the city.
"NEO Surveyor
will have the capability to rapidly accelerate the rate at which NASA is able to discover asteroids and comets that could pose a hazard to the Earth, and it is being designed to discover 90 percent of asteroids 140 meters in size or larger within a decade of being launched," said NEO Surveyor program specialist Mike Kelley.
The telescope
is scheduled to launch in the first half of 2026. For more information, visit NASA's page
here
.
[via
NASA/JPL
, cover image via
NASA/JPL-Caltech
]
Receive interesting stories like this one in your inbox
Also check out these recent news