Don't miss the latest stories
Share this
This 'Leather' Is Made From Apples To Keep The Cows Away
By Ell Ko, 15 Jul 2021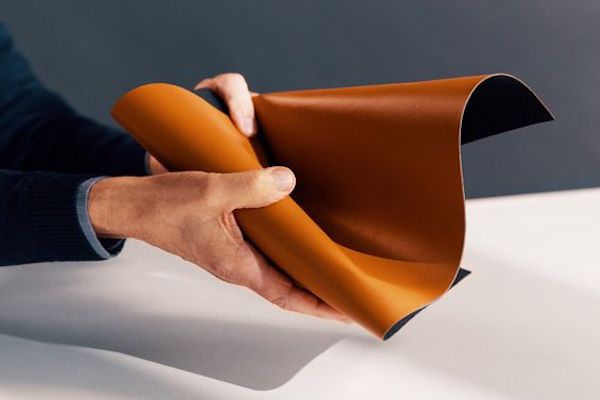 Image via Leap
Plant-based leather has
been rising in popularity as of late, as the rapid changes in our climate crisis bring about an even more urgent need for change in the way we use materials, and quick. Alternatives in the biomaterials industry, like mushroom leather
Mylo
and Pangaia's
grape leather
, already exist. Now joining the league is Leap, leather made from apple waste.
Leap gets its name
from 'LEftover APples'. Developed by Copenhagen-based company Beyond Leather Materials, the material is made using waste that's produced as a result of apple juice and apple cider manufacturing. Its three-layered structure is made with 99% less water and about 85% less carbon dioxide than traditional, animal-based, leather production.
Of course,
the source of the material is, too, wildly different—Leap comprises 80% bio-based ingredients and is designed to be disassembled at its end-of-life stage.
"Roughly 25% of an
apple goes to waste after pressing it for juice or cider," cofounder Hannah Michaud told
Dezeen
. "We source the apple waste… from a small Danish juice producer who processes local farmers' apples into beverages and creates 500 to 600 tons of waste every year."
She also stated
that at the moment, apples make up the majority of the product, but Leap hopes to use them as an entire product in the future.
According to the roadmap
on its
website
, the company is hoping for Leap to be widely available to industries, coming in a large range of colors and textures. By 2024, it's aiming for the product to become 100% biodegradable. This involves replacing the material of the coating from half petroleum-based polyurethane and half bioplastic to something "based on the company's philosophy of using waste as a core ingredient."
A sample box
and prototyping sheet are
available
on the Leap website at €39 (US$46.13) and €150 (US$177.44) respectively. They were released for businesses to sample before making the decision to fully switch to the material, but both options are currently sold out.
Beyond Leather Materials started
Leap with €1.1 million (US$1.3 million) of seed funding which was obtained last year,
FUTUREVVORLD
reports. The company is focused on utilizing fruit waste and turning it into biodegradable alternative textile options that are much less harmful to our planet.
[via
Dezeen
, image via
Leap
]
Receive interesting stories like this one in your inbox
Also check out these recent news