Don't miss the latest stories
Share this
Scientists Invent Lightweight Rocket Fuel Tank From Plastic & Carbon Fiber
By Ell Ko, 30 Jul 2021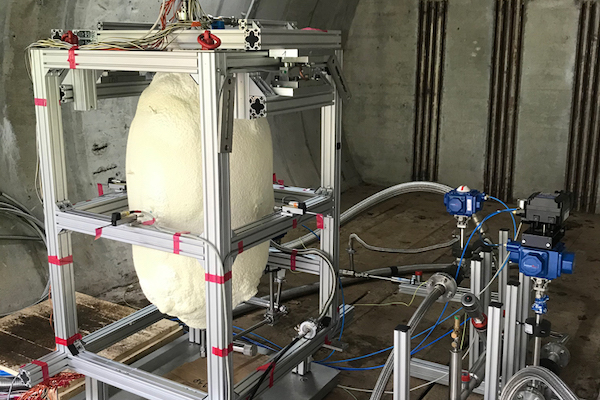 Image via MT Aerospace
MT Aerospace,
with the support of the European Space Agency (ESA), has developed a fuel tank for rockets made with carbon-fiber reinforced plastic (CFRP), casting the need for metal behind. This has the potential to make space flights cheaper, as lighter objects cost less to launch.
"Metal is leak-tight.
To recreate the same property with carbon composite required a complex weave of black carbon fibre and a special resin," explains Kate Underhill, ESA's upper stage and propulsion demonstrators project manager in the Future Launchers Preparatory Programme.
In normal cases,
storing cryogenic propellants require metal-lined environments of -253ºC (-487.4ºF) to ensure that they don't leak, according to the ESA's
news release
. But this tank is leakproof when it comes to liquid hydrogen and liquid oxygen, and doesn't require a metal liner, making the entire structure much lighter. The fewer parts also mean less time and cost needed for manufacturing, saving resources.
Following a test
campaign for the CFRP, MT Aerospace
reports
that the material resisted cryogenic temperatures and varied pressure, including the "supercritical LH2 pressure" which reflects the environment of a rocket flight. Filling and emptying cycles that followed also proved the tank's durability and stability.
"This new lightweight
carbon-based material would allow the manufacture of an Ariane 6 upper stage that is two tonnes lighter – mass made free for payloads," said Daniel Neuenschwander, ESA Director of Space Transportation.
MT Aerospace's design
is set to be used for the ESA's
Phoebus
upper stage rocket for the Ariane 6 launcher. It's planned to have nearly 12-foot-wide tanks for hydrogen and oxygen, and this network of tanks will be tested with cryogenic fluid in 2023.
[via
Gizmodo
, image via
MT Aerospace
]
Receive interesting stories like this one in your inbox
Also check out these recent news