Don't miss the latest stories
Share this
Banksy Doesn't Consent To This Immersive Art Show, But It Still Runs Globally
By Ell Ko, 07 Sep 2021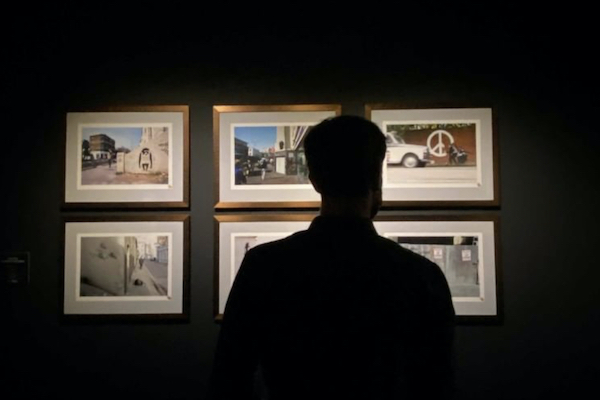 Image via Banksy: Genius or Vandal?
New York, Los Angeles,
and Brussels currently play host to an exhibition titled
Banksy: Genius or Vandal?
. It promises more than 80 authentic art pieces by the mysterious artist, whose work has positioned him among the top ranks of the art world.
Its website states
that the exhibition, "as all that have been previously dedicated to Banksy, is not authorized by the artist, who remains anonymous and independent from the system."
Organized alongside
notable Banksy dealer Andrew Lilley, who provided most of the works for the exhibition "from private European collections," the event invites visitors to take part in a "multisensory artistic immersion" via virtual reality (VR).
This 10-minute
VR show comes alongside other tactile offerings, such as a recreation of the artist's studio as shown in
Exit Through the Gift Shop
, a mockumentary made in 2010.
This innovative
tribute exhibition has been ongoing for a few years now, but it has never been approved by the artist himself. In fact, he's expressed disdain at these antics.
In particular, in
response to the show hitting Moscow in 2018, he scowled in an Instagram post: "I wish I could find it funny. What's the opposite of LOL?"
In a screenshot
of a text conversation with an unknown party who tipped him off, Banksy is quoted to retort "I don't charge people to see my art unless there's a fairground wheel" in response to admission tickets costing £20 (US$27.70).
The comments section
is filled with people expressing dismay that they attended a "fake" show without knowing. As Instagram user znineteen states, "I went to the one in Atlanta recently and enjoyed seeing the art, but if Banksy wasn't involved with it then I am pissed I supported something like this."
In New York,
the presentation was reported to cost US$29.90 to get in. This didn't thwart people from going, though;
Artnet News
notes that the show has had more than three million visitors in around 15 cities.
Whether Banksy
will take action against this show is uncertain, but the artist does note the irony of the situation in his Instagram post. "Not sure I'm the best person to complain about people putting up pictures without getting permission."
[via
Artnet
, image via
Banksy: Genius or Vandal?
]
Receive interesting stories like this one in your inbox
Also check out these recent news