Don't miss the latest stories
Share this
Apple's Future iMacs Could 'Float' On A Single Strip Of Clear Glass, Per Patent
By Ell Ko, 08 Sep 2021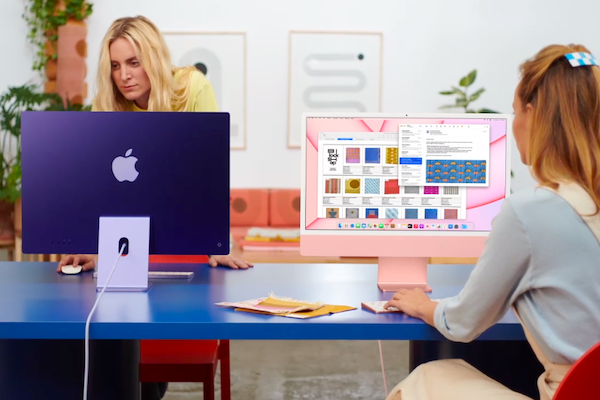 Image via Apple
Although Apple
only released the
iMac
in a range of fun colors earlier this year, it doesn't look like the tech giant will be stopping its redesigning efforts there.
A patent filed
in May 2019, titled "Electronic device with glass housing member," was only just granted to the company. Instead of using a stand to hold the monitor up, the potential iMac may appear to "hover" in the air with only a curved sheet of glass to hold it all up.
"The display area
extends along the upper portion, the transition portion, and the lower portion; and the display has a curvature that corresponds to a curvature of the glass housing member," the document
writes
.
"An electronic
device comprising: a slumped glass housing member defining: a continuous exterior surface of the electronic device; and an opening extending through the slumped glass housing member; a support structure coupled to a back side."
Illustrations in
the patent show the idea of using an L-shaped "transparent or translucent" panel to host the screen on a large flat section. The idea is to insert the monitor from behind so the glass sheet can double as a screen protector of sorts.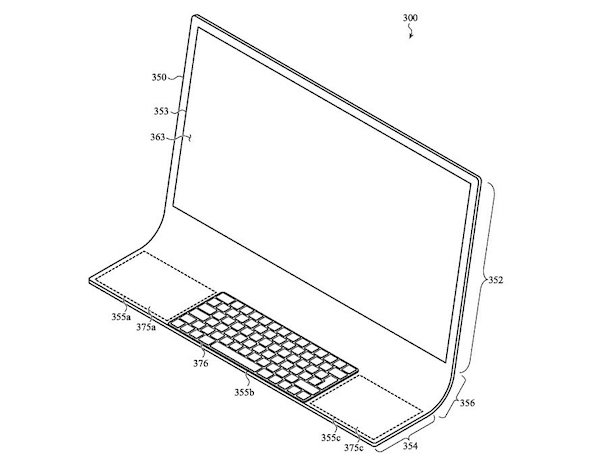 Image via Apple
This flows into
to a shorter flat area, which can hold a keyboard and mouse or trackpad. If the company is deciding to proceed with a dual-display
keyboard-less MacBook
, there's a possibility that this could be integrated here as well.
The curve
has the option to be supported by a wedge for extra security. Otherwise, an opening could be incorporated to allow the lower section of a MacBook to slot in from behind to "dock."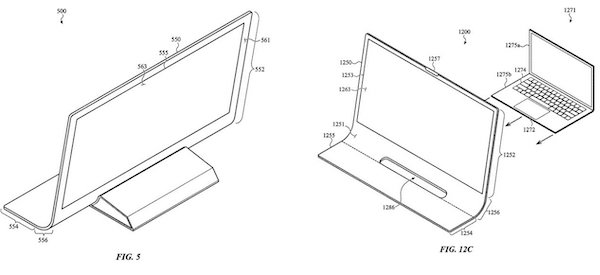 Image via Apple
Although patents
are filed regularly, not all ideas make it to the final stage. They're mainly there to express interest the company has in potentially developing something like this.
So, we might
not get this futuristic "floating" iMac in the future, but it's always nice to dream.
[via
AppleInsider
, images via
Apple
]
Receive interesting stories like this one in your inbox
Also check out these recent news