Don't miss the latest stories
Share this
Giant Half-Billion-Year-Old Predator Species Discovered In Canadian Rockies
By Alexa Heah, 09 Sep 2021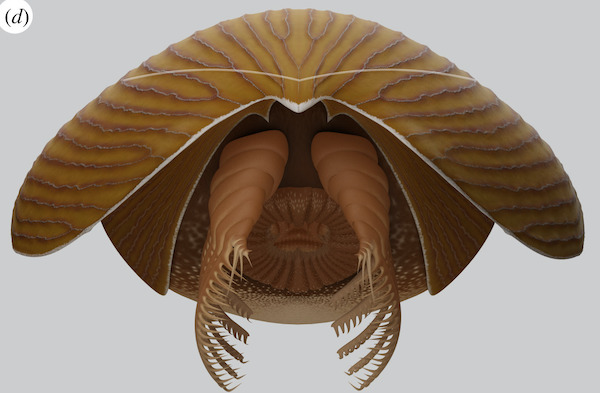 Image via Lars Fields, Royal Ontario Museum
More than 500
million years ago, the Cambrian Explosion took place, with the Earth's oceans full of prehistoric creatures that would eventually evolve into the marine life we know today.
Recently, one of
the half-billion-year-old creatures was discovered in the Canadian mountains, and it's among the largest-ever animals scientists have collected from that period.
Named the
Titanokorys Gainesi, the creature had multifaceted eyes, a ring-shaped mouth, claws to snatch prey, and flaps to help it swim. Its head was also covered in a huge carapace, which is similar to a hard shell on a tortoise.
"The first specimens
were found in 2014, but it wasn't until 2018 that we discovered a particularly pristine carapace [and] we recognized the significance of this find," Joe Moysiuk, co-author of the latest study, told
Gizmodo
.
"I recall hearing
a gasp followed by a lot of yelling and everyone crowding around. We've found a lot of cool things, but this one really left an impression!"
The fossil was
found hidden in the Burgess Shale, a stretch of rock in Canada that has provided well-preserved remains of creatures from the Cambrian era previously. And one thing that really stood out to the scientists was the size of the T Gainesi.
According to
Gizmodo
, most animals during the period were smaller than a pinkie finger, but this fossil contained a creature nearly a foot and a half long—enormous for creatures of that period.
"The sheer size
of this animal is absolutely mind-boggling, this is one of the biggest animals from the Cambrian period ever found," said the study's lead author Jean-Bernard Caron.
It's likely the
creature glided through the water like a giant balloon, floating above the seafloor waiting to strike prey.
This amazing
discovery has helped expand scientists' knowledge of predators during the Cambrian period. And who knows, they might find more 500-million-year-old fossils soon.
For more on
the research, check out the
study
here.
[via
Gizmodo
, cover image via
Lars Fields, Royal Ontario Museum
]
Receive interesting stories like this one in your inbox
Also check out these recent news