Don't miss the latest stories
Share this
This Archless McDonald's Is Hard To Find, Since It's A Victorian Mansion
By Ell Ko, 09 Sep 2021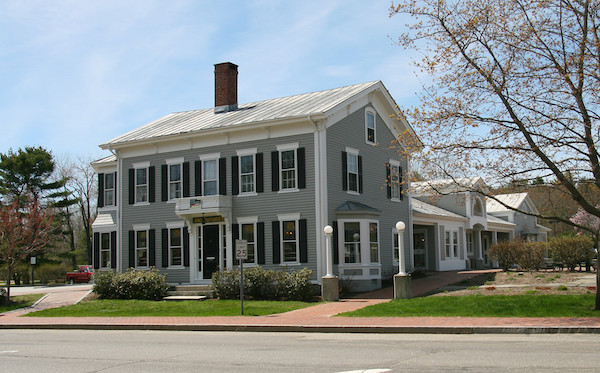 Image via NNECAPA Photo Library / Flickr (CC BY 2.0)
McDonald's restaurants
aren't synonymous with monochromatic Victorian mansions boasting almost two centuries of history. Yet one of the rare few "archless" outlets, tucked inconspicuously in Maine, is exactly that.
At first glance,
it's a colonial home in the town of Freeport, usually a tourist hotspot. There are barely any inclinations that a bustling restaurant sits inside the building named Gore House, and there is good reason for this,
Food & Wine
explains
.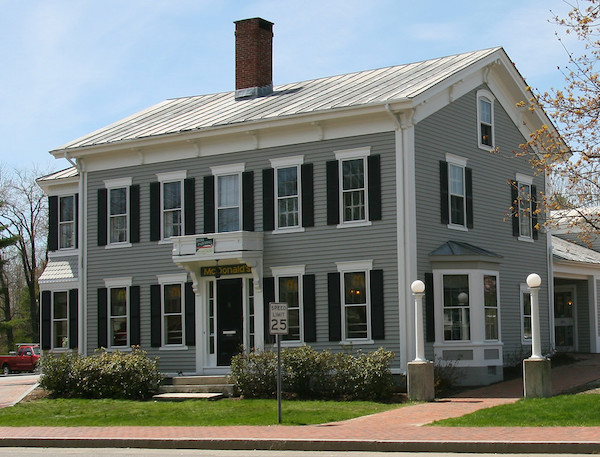 Image via NNECAPA Photo Library / Flickr (CC BY 2.0)
Freeport had
always been a carefully curated area in terms of its aesthetics and lifestyle. Despite its popularity among tourists, it still retains a peaceful pace of life and many of its historical buildings. The Freeport Zoning Board of Appeals worked hard to conserve this through the enforcement of strict zoning laws.
The town's dismay
in 1984 when the fast-food chain began to inch its way in, therefore, is understandable. Its planned exterior, like all the others, was to include the famous Golden Arches, which would contrast a little too strikingly with the calm gray tones of the building.
A New York Times
article
published
at the time reports that a spokesperson for the North Main Street Neighborhood Organization remarked that the group was "really disappointed" by the decision to allow the corporation in.
However, the
then-manager of McDonald's media relations assured the residents that this particular restaurant was being treated in an "extremely special way."
This included
things the company had "never done before in terms of design and the amount of time and effort involved."
It was also
stated that the company was "willing to spend the money to make it compatible with the area, the history, the community and the people who live there."
This solution
came in the form of almost no decoration on the exterior of the restaurant, and that has carried on from the beginning of its operation until today. A small sign in the signature red-and-yellow palette is the only branding in sight, and a small window panel is used to display one of the chain's current promotions.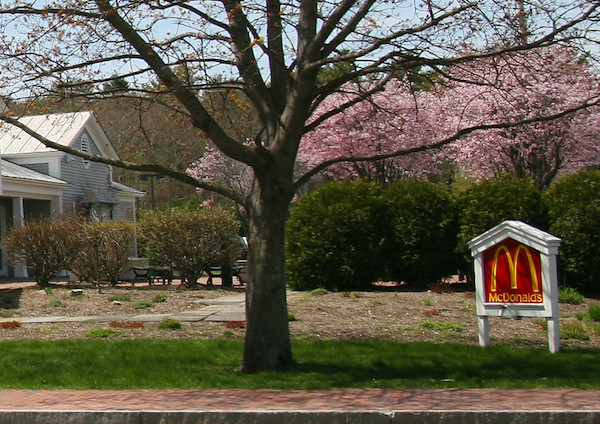 Image via NNECAPA Photo Library / Flickr (CC BY 2.0)
The classiest McDonalds in the world may be in Freeport, Maine. https://t.co/nJ7apFL27z pic.twitter.com/z6rcUqxxch

— Curbed (@Curbed) January 23, 2016
The coolest #McDonalds is in #Freeport Maine down the street from #llbean pic.twitter.com/1tHUDtvk

— Joe C (@JKC2100) November 23, 2012
Inside, it feels
almost like a regular McDonald's—the bustle, the smell, the beep of cookers. The only standout feature here is that old photographs of Freeport flank the walls, and a fireplace sits among the touchscreen self-order machines.
A little uncanny,
perhaps; a familiar experience worldwide made slightly different in a small town in Maine. But it's surely be a packet of fries that'll be hard to forget.
Last week I found the McDonald's that's in a 150-year-old colonial mansion in Freeport, Maine. pic.twitter.com/C1mZrCsAGW

— Eric Fidler (@EricFidler) October 17, 2020
friendly reminder that this is really the McDonald's in Freeport, Maine pic.twitter.com/FcNIGN5EdZ

— Emma Fitzhugh (@emfitzhugh) December 22, 2013
[via
Food & Wine
, cover image via
NNECAPA Photo Library / Flickr
(CC BY 2.0)]
Receive interesting stories like this one in your inbox
Also check out these recent news