Don't miss the latest stories
Share this
AMC Is The First Theater To Advertise On TV, Inviting Audience Back To Cinemas
By Ell Ko, 09 Sep 2021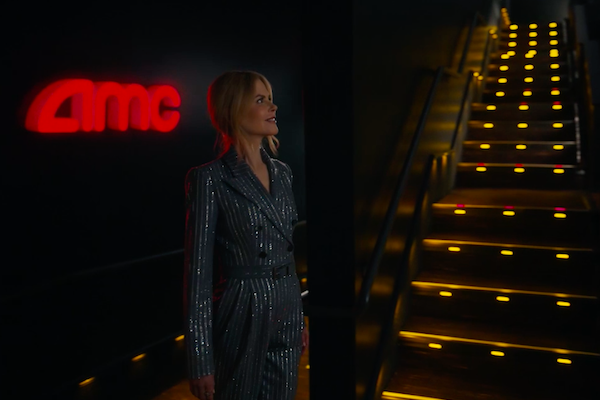 Image via AMC
Nicole Kidman struts
into a theater to enjoy a movie or three on the big screen, beckoning a nationwide audience to do the same after AMC Entertainment's newest move: television advertising.
It was announced
on Wednesday that the theater chain was planning to spend US$25 million on its newest multimedia campaign to invite an audience back into its physical cinemas.
The company claims
that this is "the first national advertising program by a major theatrical exhibitor in the history of cinema."
With Nicole Kidman
as the face of the campaign, the advertisements are planned to hit television screens in the US starting this Sunday.
Split into commercials
lasting 15, 30, and 60 seconds, the clips are meant to "highlight the emotion and experience that can only be found on the big screen in the communal setting of a movie theatre," as per the
press release
.
This is evidence
in the simple yet resonant theme message of the campaign: "AMC Theatres. We Make Movies Better."
"For more than
a century, movie theatres have not only survived but thrived," declares Adam Aron, CEO of AMC. "Through emerging technology and expanding entertainment options and despite repeated imminent threats to the cinema business over the decades, movie theatres have remained a vital part of the cultural fabric of our society the world over."
Before this
campaign, movie theaters have relied more on individual movie studios to promote their newest releases at specific cinemas. Most cinema advertising also comes in the form of small logos at the bottom of movie posters, rather than an entire campaign dedicated to the location.
However, times
have changed, AMC recognizes. Describing the recent COVID-19 pandemic as "uncharted waters," Aron reiterates that the company can't keep relying on "what's always worked before."
Businesses suffered
tremendous impact during global lockdowns, and experiential destinations like cinemas took a huge hit. Their products aren't items that can be easily delivered, like other physical purchases.
The alternative
"delivery" option for cinemas is streaming, but that's just handing business to rivals on a silver platter.
Now that the
world is in the process of opening back up, AMC is making sure to remind audiences of the thing they so missed: "the magic that can only be found in a movie theatre and at AMC, with our big seats, our big sound and our big screens."
Discover where movies feel perfect and powerful. Get a sneak peek at the biggest advertising campaign any theatre chain has ever made, starring Academy Award winner Nicole Kidman. #AMCTheatres. We Make Movies Better. Learn more: https://t.co/G6TyJ3sElx pic.twitter.com/Y8lYRG2CHo

— AMC Theatres (@AMCTheatres) September 8, 2021
[via
CNBC
, image via
AMC
]
Receive interesting stories like this one in your inbox
Also check out these recent news