Don't miss the latest stories
Share this
Bionic Arm Can Connect Directly With Wearer's Brain & Restore Sensation Of Touch
By Ell Ko, 10 Sep 2021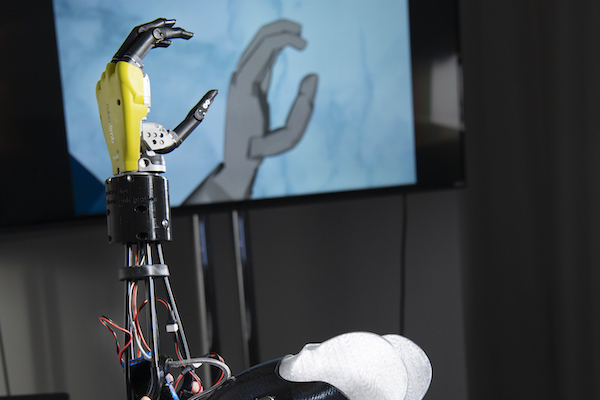 Image via Cleveland Clinic
Although this
prosthetic arm might look just like any other one out there, it's actually much more complex on the inside.
Researchers from
the Cleveland Clinic rewired an "off-the-shelf" bionic prosthetic arm to make it possible to communicate directly with the brain of whoever wears it.
Their goal was
to not only make something that functions more like a regular limb, but also devise the arm to provide its user with feeling.
The arm "enables
wearers to move their prosthetic arm more intuitively and feel sensations of touch and movement at the same time," explains Paul Marasco, lead researcher, in the clinic's
press release
. He adds that a "complete restoration of natural arm function" was the ultimate aim of the research.
According to
Marasco, traditional prosthetics don't allow their users to feel the sensations of touch. Therefore, their actions differ to people who don't use prosthetics in daily living.
An example of
this is how users must keep watch over their prosthetic while using it to ensure that it doesn't fall out of control. This lack of sensation also makes it more difficult to correct mistakes to do with pressure and force.
This bionic system
connects the user's brain to the prosthetic through limb nerves, which means they can move the arm just by thinking about it. Then, when touching something, the sensory information is relayed back to the brain, similarly to a natural arm.
On the inside
of the arm, multiple small black boxes provide "individual finger sensation" to its wearer through a neural-machine interface, the clinic notes. It also means that when they swing their arm, they can feel it moving.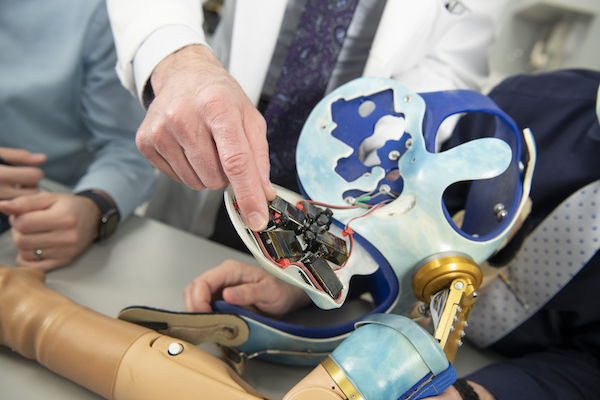 Image via Cleveland Clinic
The arm was
tested in a task where small blocks of different stiffness were required to be picked out from other "distractors" in the same pile of items. When doing the task, the study's participants were observed to see how they made decisions using their sense of touch and grip kinesthesia.
A small study
sample of two was shown to have changed their "brain and behavioral strategies," which is an optimistic sign. It has been previously noted that due to the lack of sensation in their prosthetic arm, users tended to make judgments differently to those with natural limbs.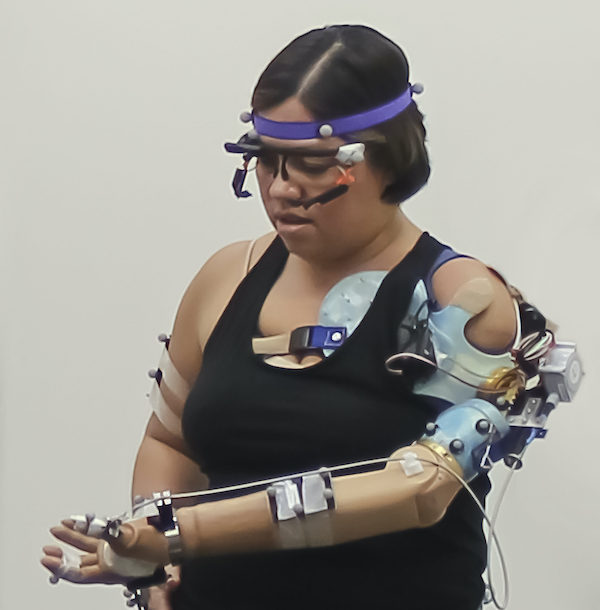 Image via Cleveland Clinic
Strongest evidence
was found when the users were able to find and grasp objects without relying on sight, and mistakes were effectively corrected.
Because the
sample size is so small, Marasco notes that more testing needs to be done before the technology can be developed further. However, it's not just applicable to arms—this system can be applied to any upper body part, restoring the sensations of tactility to users once more.
Cleveland Clinic researchers have engineered a first-of-its-kind bionic arm for patients with upper-limb amputations. It allows wearers to think, behave and function like a person without an amputation.
Full story: https://t.co/NBtXO0sJNz pic.twitter.com/PXDosV04CO

— Cleveland Clinic (@ClevelandClinic) September 3, 2021
[via
SlashGear
, image via
Cleveland Clinic
]
Receive interesting stories like this one in your inbox
Also check out these recent news