Don't miss the latest stories
Share this
This COVID-19 Calculator Estimates How Likely You Are To Contract The Illness
By Alexa Heah, 15 Sep 2021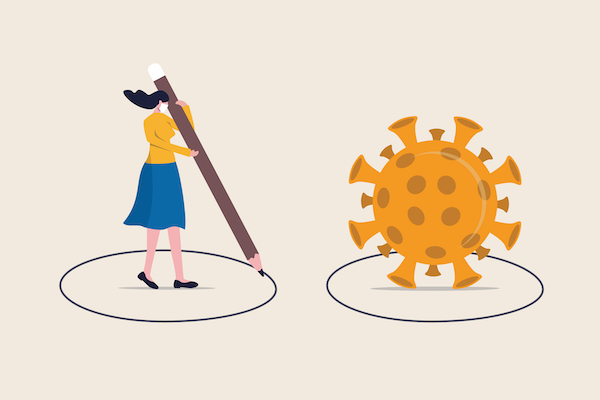 Image via Shutterstock
As most of us
venture out into the world again, it's often difficult to gauge which activities are safe to partake in. As the Delta variant rages on in most of the world, even though most of us have returned to some sense of normalcy, it's not over just yet.
Now, an online site
—the
microCOVID Project
—helps you analyze and quantify everyday risks. For example, you'll be able to calculate the risk rate of dining out at a pub in the UK, or another part of the world, while vaccinated.
"It gives you a
kind of common playing ground for understanding all sorts of activities. It separates some of the emotional load out of it," said Ben Shaya, a contributor to the project, who recognizes the emotional toll COVID-19 has taken on most of us.
One 50 minute class and that's more than my alotted risk for the week 🤷🏻

— Joshua Raclaw (@joshraclaw) August 26, 2021
The idea for the
microCOVID Project blossomed when Shaya's group of friends and housemates wanted to ensure they were taking the right safety precautions. Using a scientific method, they came up with the tool, allowing others "to have a better way to be fair about what people could do."
The project makes use
of a mathematical model that analyzes the latest research available on masks, vaccine efficacy, the number of cases in each country, and more. It then translates the data into a numerical percentage, allowing users to assess the chance of contracting the illness.
On the site,
users can choose between the calculator or risk tracker function. The former allows one to calculate the likelihood of contracting COVID-19 at a single event or scenario, while the latter takes all of a user's activities into account to generate an overall risk rate.
To measure the
probability of contracting the virus, the group came up with their own measurement: microCOVIDs, referring to a one-in-a-million chance of being infected.
Users can select
from a whole host of scenarios, such as where they're headed to, the mask they're wearing, vaccination status, and if the event is indoors or outdoors. They're then given the risk rate of each event.
For example,
according to
The Smithsonian Magazine
, a fully-vaccinated user in Manhattan, New York, heading out to the grocery store for an hour with a N95 mask may be given a risk of 4 microCOVIDs. This would be considered a "low risk" activity, with the default of 200 microCOVIDs allocated to each user per week.
The project could
eventually save users from engaging in activities that they'd thought were not dangerous, but had a high chance of infection. With its allocated budget, the tool functions similarly to a financial tracker, allowing users to place their "risks" on more important activities.
I built out my elementary kids' school Covid risk scenario in Multnomah county with the @microcovid calculator. This is for ONE day at school. Just one: pic.twitter.com/VPB2Ll4kLs

— Cameron (@cameronmace) August 27, 2021
"Nobody thinks they're
being dangerous. Careful means different things with different people," explained Jenny Wong, a contributor to the project.
While tools such
as the microCOVID Project can give you a better idea of the risks you're taking on a day to day basis, it still doesn't mean you won't be infected.
F. Perry Wilson,
an epidemiologist at Yale University, cautioned that such tools may give users "a false sense of security," so all precautions should still be taken despite an activity being labeled as "low-risk."
Take a look
at the video below to understand how the microCOVID Project works.
[via
The Smithsonian Magazine
, cover image via
Shutterstock
]
Receive interesting stories like this one in your inbox
Also check out these recent news