Don't miss the latest stories
Share this
Why Icy Clouds Are Always An Early Sign Of A Deadly Tornado Looming
By Ell Ko, 15 Sep 2021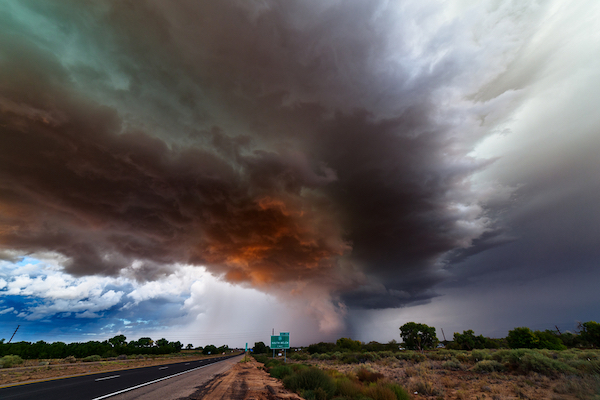 Image via ID 109307464 © John Sirlin | Dreamstime.com
When there's a
shady gathering of ice and water vapor roaring above an intense thunderstorm, that's the warning sign of a devastating tornado, winds, or massive hailstones about to follow.
This phenomenon
can be sighted from satellite imagery, often occurring around half an hour before the severe conditions hit. But why is it associated only with this type of weather, and how does it exist?
Those were the
questions scientists at the Stanford University set out to answer. Finding the answers may help to predict weather more accurately without relying on the Doppler radar system, which can be knocked unconscious by strong wind and hail.
Hurricanes can be
spotted from space, explains atmospheric scientist Morgan O'Neill, lead author of the new study. But tornadoes are hidden underneath thunderstorm tops, so they're a little more elusive.
During a supercell
thunderstorm, its updraft presses the tropopause, the boundary between the troposphere and stratosphere, into the next layer of the atmosphere.
This creates a
phenomenon known as an overshooting top.
"It's like a
fountain pushing up against the next layer of our atmosphere," according to O'Neill.
When winds pass
over and around the top, they may activate streams of water vapor and ice. These careen off into the atmosphere, forming the associated plume—the Above-Anvil Cirrus Plume (AACP).
"Dry air descending
from the stratosphere and moist air rising from the troposphere join in this very narrow, crazy-fast jet," O'Neill details. "The jet becomes unstable and the whole thing mixes and explodes in turbulence." Speeds recorded at the storm top had never been observed or even hypothesized.
It has been
known that moist air from overshooting tops entering the atmosphere appears almost solid, blocking airflow. Past research has also suggested that waves of this moist air, when flowing over the tops, can send water into the stratosphere.
However, what's
not known is how this all works together. So to measure this, the team used computer simulations of idealized supercell storms.
The new models
suggest the atmosphere's turbulence associated with storms is due to what's called a hydraulic jump. The University's
news release
refers to the way "water speeding smoothly down a dam's spillway abruptly bursts into froth upon joining slower-moving water below" to illustrate this.
What these new
findings potentially reveal is that a hydraulic jump can be triggered by fluid "obstacles" in the atmosphere, despite their constantly shape-shifting composition being made entirely of air.
Hydraulic jumps
were observed even
by Leonardo da Vinci
in the 16th century, so it isn't a brand new concept. But this is the first time scientists are seeing that they can occur even without a solid form.
O'Neill states
that only recently was NASA aircraft able to observe winds at the peak of thunderstorms, so AACP hasn't been studied up close just yet. However, now, it's possible. With the recent occurrence of Hurricane Ida, the findings are crucial to understanding weather better to be able to lessen the devastation that disasters may cause in the future.
"We have the
technology now to go verify our modeling results to see if they're realistic," he states. "That's really a sweet spot in science."
[via
Stanford University
, image via ID 109307464 ©
John Sirlin | Dreamstime.com
]
Receive interesting stories like this one in your inbox
Also check out these recent news