Don't miss the latest stories
Share this
Treasure Trove Of Gold Accidentally Discovered By First-Time Metal Detector User
By Ell Ko, 15 Sep 2021
Image via Vejlemuseerne
Imagine taking
your brand-new metal detector out for its first spin, only to come across a treasure trove of 1,500-year-old gold jewelry and other artifacts belonging to the Iron Age.
That's what
happened to Ole Ginnerup Schytz, a first-time treasure hunter who made the discovery last December in southwestern Denmark, near the town of Jelling.
Schytz recalls
the event to
TV Syd
, a state television station, as reported by
Artnet
. When his device beeped, he dug down into the ground to uncover a small piece of metal, twisted and scratched, which he likened to the lid of a herring can.
But it wasn't a
red herring. This was the first of 22 pieces of gold treasure later found to weigh more than two pounds, as investigated by the Vejlemuseerne and experts from the National Museum.
According to
a
statement
made by the Vejlemuseerne, the most common thing found in the trove were bracteates. These medallions, commonly worn by women, were popular in northern Europe around 300 to 700 CE. They were often engraved with runes for protection.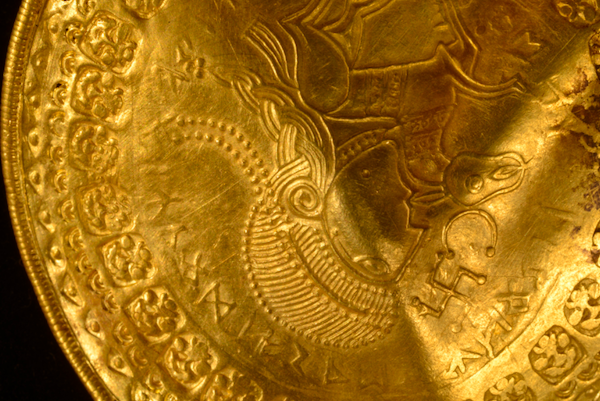 Image via Conservation Center Vejle
However, the
ones uncovered hold many symbols that aren't yet recognized by the experts, Mads Ravn, research director at the Vejlemuseerne, tells the
AFP
. These depictions thus hold more unique value than the quantity, Ravn explains.
Other pieces
from the collection include coins from the Roman Empire, even though one found from the reign of Constantine the Great predates the collection being stashed away. This indicates a strong network of trade spanning the whole of Europe.
Image via Conservation Center Vejle
As well as
trade, the discovery also suggests that Jelling and its surrounding areas must've been home to someone incredibly powerful and wealthy. Ravn states that only a single member of the absolute top tier of society at the time would've been able to possess such a huge amount of gold with this level of embellishment.
Experts believed
that the gold was tucked away around 536 AD, when a huge volcanic eruption resulted in famine across Scandinavia. Like many other gold discoveries of the time, this was probably buried as a sacrifice to the gods as a last plea for help.
It's "the epitome
of pure luck" to have chanced upon this bounty, Schytz tells
TV Syd
. Further investigations will surely reveal more treasures in the form of knowledge and history.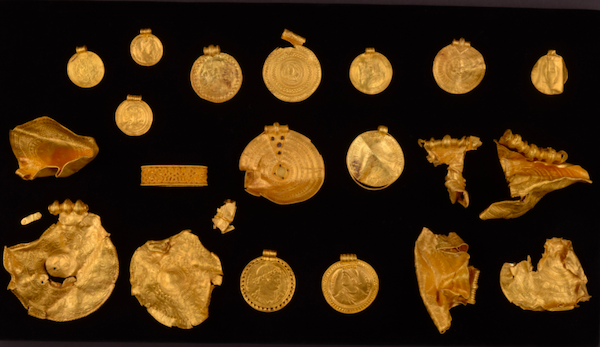 Image via Conservation Center Vejle
[via
Smithsonian Magazine
, images via
Vejlemuseerne and Conservation Center Vejle
]
Receive interesting stories like this one in your inbox
Also check out these recent news