Don't miss the latest stories
Share this
Apple Places iPhone 13 On Motorbike In Ad, Days After Warning Against Doing That
By Mikelle Leow, 15 Sep 2021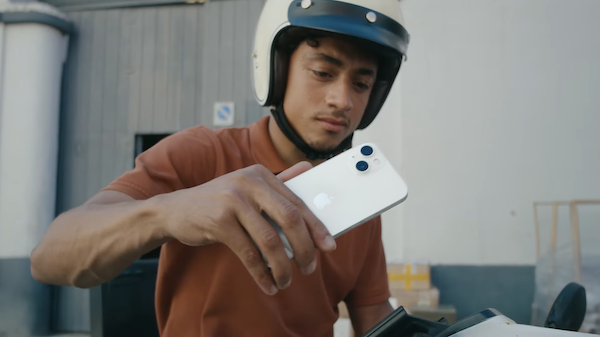 Video screenshot via Apple
On Tuesday,
Apple unveiled its
2021 iPhone lineup
, and included in its presentation was a promotional video of a delivery rider mounting the all-new iPhone 13 onto his motorbike.
By publishing
a potentially viral advertisement greenlighting the use of an iPhone on a motorcycle, Apple appears to make it okay for people to do that, possibly encouraging more to follow suit. Perhaps foreseeing this, the company released a note on its support website saying it is
not
okay to do that… just days before the iPhone 13 commercial.
For context,
last Friday, the Cupertino tech giant divulged that exposing iPhones to certain vibrations in "high-power or high-volume motorcycle engines" might
weaken their cameras
. This affects iPhone 6 Plus and newer, and it likely applies for the iPhone 13 series too.
Specifically, Apple said
that "high-amplitude" motorcycle vibrations "transmitted through the chassis and handlebars" can harm iPhone cameras with optical image stabilization (OIS) and closed-loop autofocus (AF).
"It is not
recommended to attach your iPhone to motorcycles with high-power or high-volume engines due to the amplitude of the vibration in certain frequency ranges that they generate," the company noted.
The timing strikes
as odd, because look what Apple instructed its leading man to do: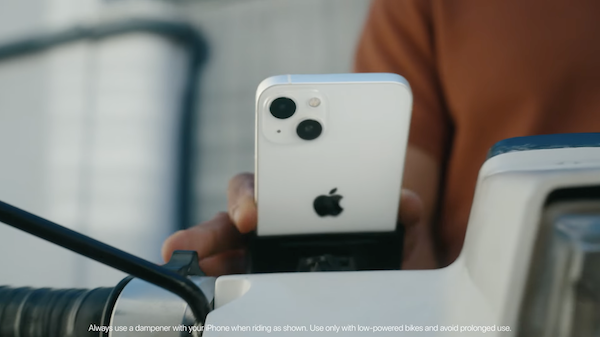 Video screenshot via Apple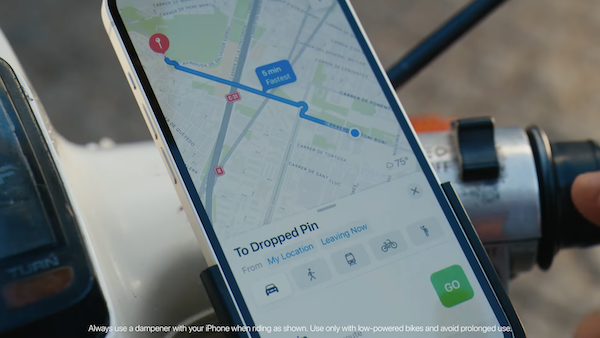 Video screenshot via Apple
As Mashable points out,
Apple also mentioned that iPhones on "small-volume or electric engines, such as mopeds and scooters," aren't as susceptible to this risk, but they'll still be affected at a smaller degree. Attached to these engines, it's recommended to use "a vibration dampening mount… to lessen the risk of damage to your iPhone and its OIS and AF systems." The vehicle in the clip could be a scooter, so it's generally safer.
In the video,
Apple did disclaim in small lettering to "always use a dampener with your iPhone when riding as shown" on low-powered bikes, and that riders should "avoid prolonged use." The advertisement is entitled "EVERYDAY HERO," so it's improbable that the delivery rider is following the advice, either.
[via
Mashable
, video and images via
Apple
]
Receive interesting stories like this one in your inbox
Also check out these recent news