Don't miss the latest stories
Share this
Moroccan Cavemen Fashion Workshop Unearthed—Made Earliest Fur, Leather Clothing
By Alexa Heah, 17 Sep 2021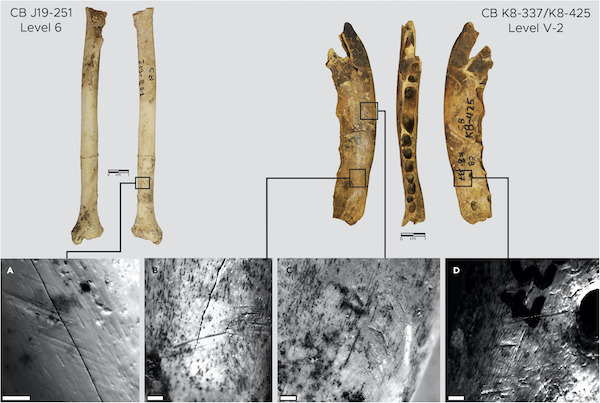 Image via Emily Hallett, et al / iScience (Open Access)
A recent discovery
shows that cavemen could've been sporting leather and fur outfits as far back as 120,000 years ago. Researchers uncovered a leather and fur production site in a Moroccan cave, which is some of the oldest archaeological evidence of human clothing to date.
According to
Brian Handwerk for
The Smithsonian Magazine
, it's been suggested that homo sapiens first donned clothing around the Ice Age, which could've been to keep warm in the chilly temperatures.
The onset of
animal-based clothing, such as leather and fur, also aligns with when personal adornments became a thing, such as shell beads. Our ancestors could possibly have cared about looking good as much as they did about function, much like we do today.
Interestingly, Emily Hallett
from the Max Planck Institute for the Science of Human History in Germany didn't set out to make this fashionable discovery. She had been interested in examining bones to see which animals the homo sapiens ate, and how they killed their prey.
However, she chanced
upon the production site in a surprising-but-exciting find. There were many tools left behind, used to scrape hides and pelts in order to make leather and fur, respectively.
"They look like
the tools that people still use today to process hides for leather and fur," Hallett said. Other teams had found similar tools at younger sites in the past.
The team, which
just published their
study
, found 62 different bone tools, buried in Middle Stone Age layers dating back to 90,000 to 120,000 years ago.
Though the tools
are ancient, they seemed to be surprisingly specialized, which could possibly point to historic humans fashioning crude versions of these tools even earlier before.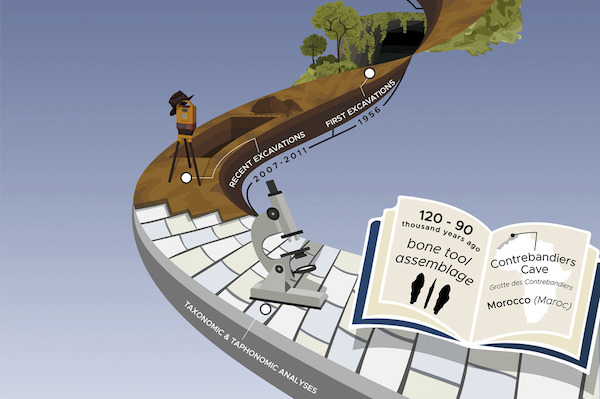 Image via Emily Hallett, et al / iScience (Open Access)
A single marine
mammal tooth was also discovered in the cave, dating back to about 113,000 years ago. This is a first for Pleistocene archaeological sites in North Africa, with researchers strongly suspecting the tooth could've belonged to an ancient sperm whale.
Aside from the tools,
the team also found many carnivore bones, bearing the marks of being cut by cavemen. These remains bore marks similar to those seen in skinning techniques even today.
Some of these
leftover remains showed no marks of butchery, which suggested they were not used for food. This was in contrast to the bones left behind by other animals, such as ancient cows, which displayed clear signs of it being processed as meat.
"Once those two
pieces were there, bone tools used to prepare leather and fur, and carnivore bones that have marks for fur removal, we put that together and realized that it's most likely this was evidence for the making of clothing," Hallett added.
From this study,
it's likely that North African cavemen dressed themselves in garb even before the great migration of humans to all corners of the globe. As to why they did so, there is much speculation.
Despite it being
the Ice Age around 100,000 years ago, the climate around the cave in Morocco was mild. This could mean the clothing hadn't been made to keep the cave dwellers warm.
However, Ian Gilligan,
author of
a study
on climate in prehistory, posited that Northern Africa could be colder than expected at times, which could explain why the ancient humans started wrapping themselves in clothes.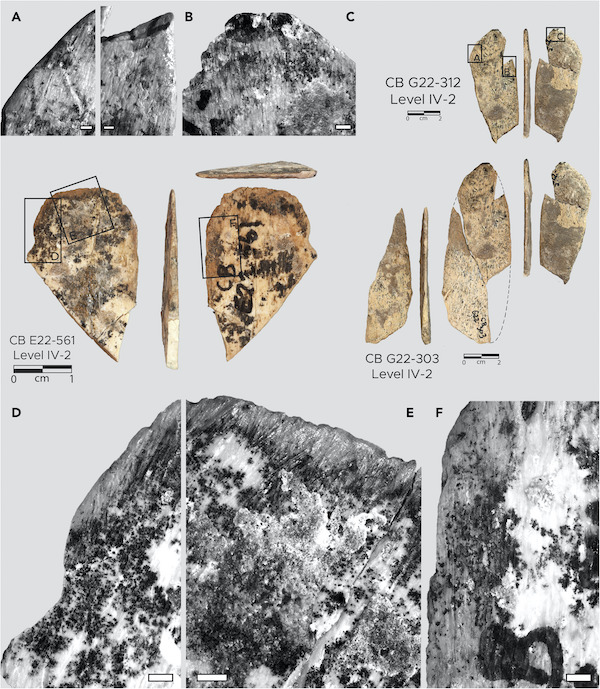 Image via iScience / Emily Hallett, et al (Open Access)
"This new study
really pushes back the first good archaeological evidence for the manufacture of clothing, and it's coinciding nicely with the beginning of the last Ice Age about 120,000 years ago, so I think that's really significant," Gilligan explained.
The discovery
has been monumental, considering that previously the earlier evidence for clothing only dated back to 75,000 years ago. The team will now experiment with bone tools to gauge how Paleolithic clothing was sourced.
From hunting the
animal to crafting and learning to use more specialized tools, making clothes back then wasn't at all a simple task.
Hallett said that
the effort was certainly worth it for our species as a whole.
"Clothing and the
expanded toolkits of early humans are likely parts of the package that led to the adaptive success of humans, and helped our ability to succeed globally and in climatically extreme regions."
[via
The Smithsonian Magazine
, images via
Emily Hallett, et al / iScience
(Open Access)]
Receive interesting stories like this one in your inbox
Also check out these recent news