Don't miss the latest stories
Share this
'Human Library' Loans People As 'Books' To Broaden Knowledge On Our Differences
By Ell Ko, 21 Sep 2021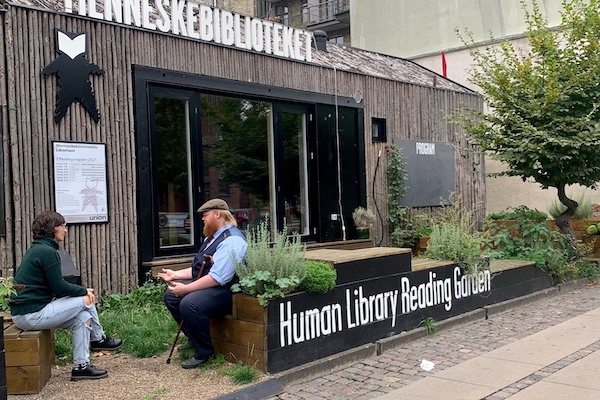 Image via Human Library Organization
The 'Human Library',
or 'Menneskebiblioteket' in Danish, aims to provide its visitors and readers with knowledge of other human beings in an effort to reduce discrimination and social stereotypes. The library is, after all, where you can go to learn something new from a wide range of resources.
However, the
resources in this library aren't books telling of others' stories. Instead, they're human volunteers telling their own stories.
It began as
an event designed for the annual Roskilde music festival, but it proved to be so popular that it has long outlived the few days it was planned for.
The goal of
the Human Library, say organizers, is "to help create more inclusive and cohesive communities across cultural, religious, social and ethnic differences." In a safe environment, volunteers ("books") are invited to tell their stories to visitors ("readers").
Books are titled
in a no-nonsense, straight-to-the-point manner: some examples include "Alcoholic," "Survivor of Trafficking," "Schizophrenia." Although they might seem pretty blunt and reductive, the library hopes that the titles will allow their readers to pick a topic with ease before coming to know the "book" as something much more than just the initial title.
Readers are
allowed to check out a book for half an hour at once, and must return them on time. They're also encouraged to ask questions otherwise considered taboo, or explore topics that they're too polite to find themselves probing in normal context.
"It's easy to
hate a group of people, but it's harder to hate an individual,"
explains
Bill Carney, otherwise known as the book "Black Activist," to
Forbes
. This is particularly true if they're "trying to be friendly and open and accommodating and totally non-threatening."
While it's beneficial
to the reader, who gets to learn something they may have always been curious about, it can also be beneficial to the volunteer. Research has shown that talking about adverse experiences
may aid
the person who has suffered through them, and this stands as the basis for many talk therapies.
These conversations,
the organization
hopes
, will help to rid discrimination, therefore preventing conflicts, while contributing to "greater human cohesion."
This special
dialogue is unique to every individual experiencing it, and it's hoped that "taboo topics can be discussed openly and without condemnation."
It's a place
for people who would "otherwise never talk" to be able to find a space for themselves, their stories, and their experiences.
[via
My Modern Met
, image via
Human Library Organization
]
Receive interesting stories like this one in your inbox
Also check out these recent news