Don't miss the latest stories
Share this
This New Electricity-Free Cooling System Could Work Even In The Desert
By Alexa Heah, 21 Sep 2021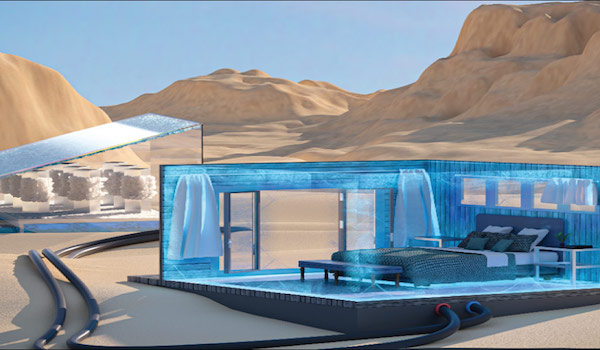 Image via KAUST
Though the desert,
given the amount of sunlight it receives, may seem like a great place to gather solar energy for the planet, such projects are often unattainable due to the lack of infrastructure in the area.
Now, a new system
—using only sunlight and saltwater—could be the clean energy alternative that could work even in the depths of sandy landscape.
This project is
a brainchild of Saudi Arabia's King Abdullah University of Science and Technology (KAUST), and makes use of a naturally-occurring phenomenon that causes water to cool rapidly.
How it works:
energy is absorbed as salt crystals dissolve within water, meaning that if salt is added to a jug of warm water, the water will cool down quickly as the salt dissolves. The researchers are then replicating this effect on a much larger scale.
According to
New Atlas
, the team, led by Professor Peng Wang, found that ammonium nitrate worked the best, as it was highly water-soluble, and already available as an inexpensive additive in fertilizer.
The technology could
be developed as cooling systems to regulate temperatures in buildings or even to preserve food where there is no electricity.
Even better,
the cooling method is "sustainable" too. Once the water is no longer in use, solar heat is used to evaporate the water. The remaining salt crystals can then be collected and reused in the next system.
Could this be
the eco-friendly answer for less-developed regions? It certainly looks promising, and if researchers are able to create a machine to recreate the cooling method, it could become a much-needed device in the desert.
[via
New Atlas
, cover image via
KAUST
]
Receive interesting stories like this one in your inbox
Also check out these recent news