Don't miss the latest stories
Share this
Your Future Flights Could Have Windowless Cabins Surrounded By Simulated Views
By Ell Ko, 22 Sep 2021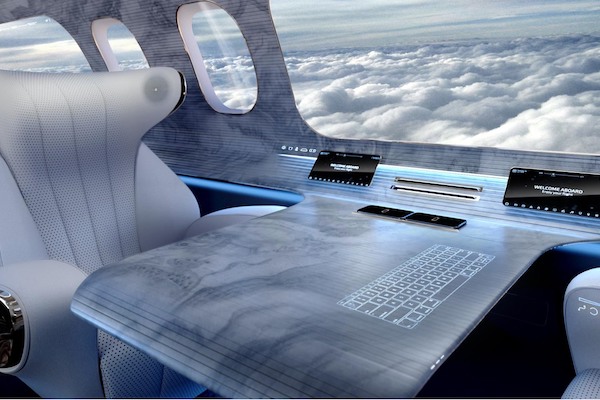 Image via Rosen Aviation
A sight reserved
usually for airplane trips is the view out of the windows, with large cities appearing like miniature playsets from the skies above. But what if these views could be taken even further, and controlled however the passenger wants?
Enter Rosen Aviation
and its 'Maverick Project', designed with SkyStyle and KiPcreating. It was "born from trying to bring tomorrow's technology into tomorrow's plane," according to Lee Clark, Rosen's senior VP for strategy.
"Tomorrow's plane"
will also include elements that look like they belong in a sci-fi movie: touchless controls and holograms included. While some of these are seen in luxury houses and cars today, it's not often they're incorporated into airplane design.
Touchless technology
is an example, allowing passengers to control their surroundings with gestures rather than conventional controls. Although this technology was developed before the pandemic began, it has become only more appealing now.
And then there
are the windows. Or lack thereof, rather. When the design was first premiered in 2020, the virtual windows were a highlight for many. They may have even been the reason the design was highly regarded, including being nominated the
Crystal Cabin Award
.
This is made
up of an OLED screen overlaid with detail to create imagery of the world outside the airplane, and not necessarily the exact view the passengers would see out of the regular tiny window.
Virtual skylights
and windows appear to be a hot topic right now "because they bring in that ability to incorporate augmented reality, some artificial intelligence, and they transform that little porthole window we've been living with for decades into something more immersive," explains Clark.
An example is
given of a mountain range: when flying over the area, the screen could display information about the landmark and showcase it to the passengers in more detail. Instead of being just windows, this transforms the showcase into more of an in-flight entertainment detail.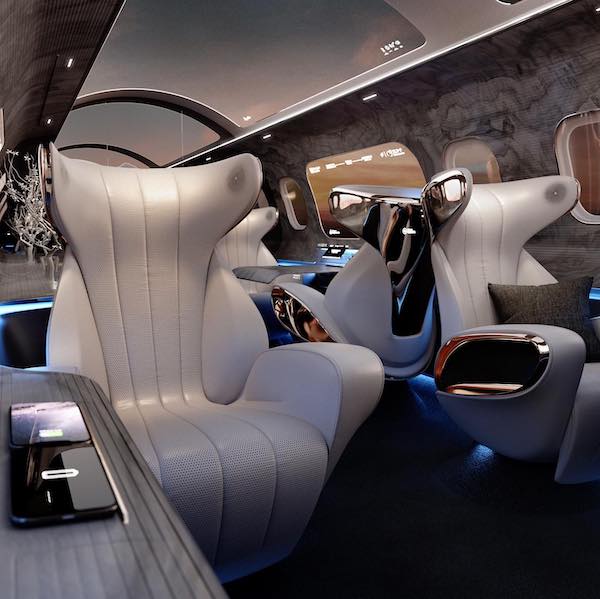 Image via KiPcreating
Although the idea
of a windowless cabin might sound a little too claustrophobic, the screens are cleverly designed to look exactly like a window would. Clark also details that the company had collaborated with the University of Colorado to study people's responses to virtual windows.
While intricate
detail isn't meant to be revealed, it was shown that the response was "overwhelmingly positive."
They were designed
to take the journey to the next level for travelers, but these "windows" will also benefit the plane's design from an engineering point of view. Clark cites structural integrity and aerodynamics as a few.
"The Maverick Project
originated because the industry at large is somewhat lagging behind the domestic, residential and automotive worlds," Clark
tells
CNN
.
While these look
like they could best work for a private jet, there are also plans to implement the design into commercial flights. The company believes that it fits into business and first class, although some elements could "trickle down" to coach, too.
A commercial
version of the Maverick Project is planned to be displayed the Airport Interiors Expo next year, an annual event celebrating innovation in cabin design.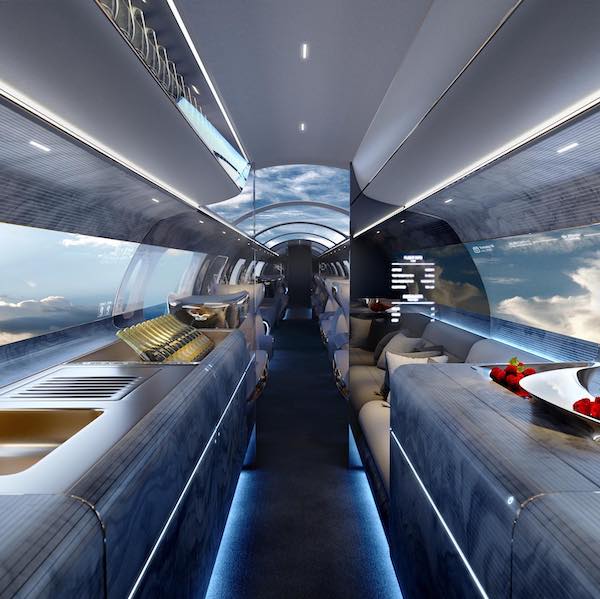 Image via KiPcreating
[via
CNN
, images via
Rosen Aviation
and
KiPcreating
]
Receive interesting stories like this one in your inbox
Also check out these recent news