Don't miss the latest stories
Share this
Samsung Aims To 'Copy & Paste' The Brain To Produce Brain-Like Chips
By Alexa Heah, 27 Sep 2021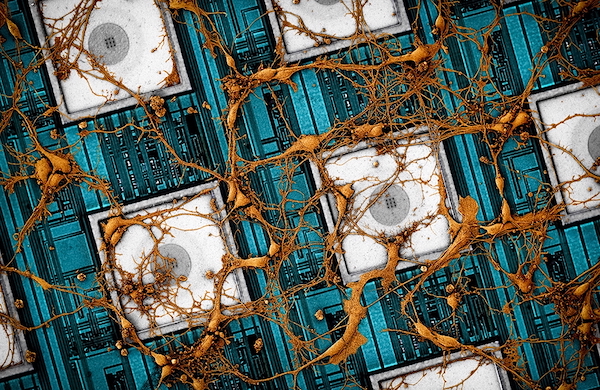 Image via Samsung
Samsung has proposed
a new way to develop neuromorphic chips that could mimic our brains. Researchers from the South Korean tech giant and Harvard University recently teamed up to address this issue in a
new study
.
How it'll work
is akin to the "copy and paste" function we're accustomed to on our devices. This newly-developed method will make use of a nanoelectrode array, created by the team, to "copy" a person's neuronal connection map in the brain. Then, the map will be "pasted" onto a 3D network of solid-state memories to create a neuromorphic chip.
The scientists hope
this memory chip could harness the computing characteristics of our brain, including facile learning, adaptation, and even autonomy and condition—which no researcher has been able to replicate at the moment.
Knowledge of the
neuronal connection map is "key to reverse engineering the brain,"
Samsung
said.
However, the team faces
a formidable challenge going forward. With
the human brain
consisting of about 100 billion neurons, and a thousand times more synaptic connections, the proposed chip would require space for 100 trillion memories.
Samsung seems up
for the challenge, saying that its technology has made such a feat possible through the 3D integration of memories, though it's unclear if it currently can go up to such an astonishing number.
As Engadget points out,
the proposal thus far hasn't included the coding that would be needed to make this "copied" brain work. While scientists continue their stride towards creating fully autonomous AI with human-level cognition, skeptics can rest assured that this project's bound to take a while.
"The vision we present
is highly ambitious. But working towards such a heroic goal will push the boundaries of machine intelligence, neuroscience, and semiconductor technology," said Samsung.
Should this technology
come to fruition in the future, a new question emerges: whose brain should be "copied" first? There's bound to be a long list of willing volunteers.
[via
Engadget
and
Samsung
, cover image via
Samsung
]
Receive interesting stories like this one in your inbox
Also check out these recent news