Don't miss the latest stories
Share this
Boston Dynamics' Spot Could Be The Construction Worker To Go Where Humans Can't
By Ell Ko, 27 Sep 2021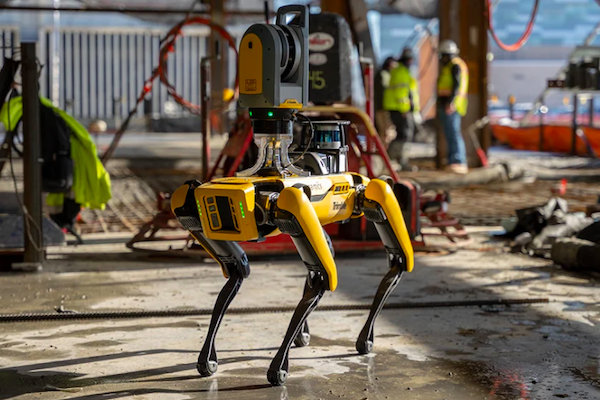 Image via Boston Dynamics
Boston Dynamics'
'
Spot
' has just been updated to bring even better capabilities to the endearing robot dog. Spot Release 3.0, the newest update, will allow it to inspect things and collect data from them without needing much human assistance.
In turn, this
will help it to find its place alongside human workers in hazardous environments, carry out operations that might put humans at too much risk to carry out, or both.
As the team
notes, "AI systems depend on data, but reliable, repeatable data is hard to collect in busy, remote, or hazardous work sites." This is where Spot comes in, acting as a "dynamic sensor."
This will allow it
to collect data autonomously, without its operators needing to keep a watchful eye over it all the time.
One of Spot's
highlights is its ability to 'Autowalk', which is essentially a function that will allow the robot to walk and record its route. After the operator "guides" it along using a controller the first time, it'll be able to find its own way along the same programmed route in the future.
This, the team
states, will be useful for "inspection missions" in industrial facilities and construction sites, for example.
Spot Release 3.0,
aimed to make Spot better for industrial use, enhances Autowalk to reduce the need for human guidance. The routes, or "missions," can now be edited if needed and actions like capturing images or reading indicators can be added.
So now, Spot
can patrol the environment and do daily checks. It can even run third-party code.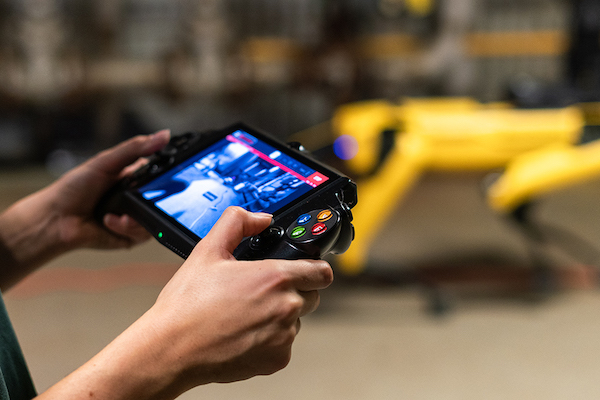 Image via Boston Dynamics
Taking pictures
along the way also contributes to the robot's data collection and processing abilities. These images can be processed by a deep-learning model running on the device or in the cloud, which can then be used to "teach" Spot to recognize objects and do things with greater ease.
The construction
industry is one example explored by Boston Dynamics; the team
states
that Spot can be put in charge of creating site documentation.
Usually done
with 360º image capture or laser scanning, this task has been reported to be "time-consuming, dull, and error-prone" for the workers doing it. But Spot's "advanced mobility" will allow it to maneuver through "obstacle-filled, continuously evolving" sites for monitoring and tracking progress.
This is thanks
to three things: perception, autonomy, and customization. It has also been designed to handle different and challenging terrains, like pre-pour decking and rebar grids, where human workers may be put in needless danger.
And with the
information gathered through the experiences Spot gathers from its time at construction sites, it'll surely be poised to explore a wide range of places in the future.
Who knows
where this robot will go gallivanting next.
[via
The Next Web
, images via
Boston Dynamics
]
Receive interesting stories like this one in your inbox
Also check out these recent news