Don't miss the latest stories
Share this
Picasso Painting's Hidden Nude Unveiled By AI Technology After 118 Years
By Alexa Heah, 12 Oct 2021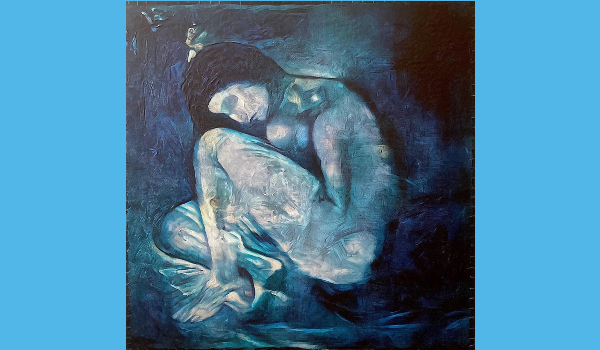 Image via Oxia Palus
Turns out, even 48 years
after his passing, Pablo Picasso still has hidden
works of genius
that art lovers would be unaware of.
A nude artwork was
recently found hidden beneath the artist's 1903 work,
The Blind Man's Meal
. Thanks to artificial intelligence (AI), experts have uncovered what the original piece would've looked like.
The hidden painting,
currently known as
The Lonesome Crouching Nude
, had first been discovered using X-ray fluorescence (XRF) imaging in 2010. Oxia Palus, a London-based art tech firm, then used AI technology to recreate the painting, allowing access into a work of art that was concealed for 118 years.
According to Robb Report,
Oxia Palus first used the same XRF imaging technology to come up with the rough sketch of the painting. The computer filled in the rest of the work, following brushstrokes similar to how Picasso painted during that period. Then, the image was 3D-printed onto canvas, so it resembled an actual oil painting.
Researchers have noted
that the same nude image appears in another painting,
La Vie
. It's speculated that, at the time, Picasso was still a struggling artist, leading him to paint over older works to save money on supplies and canvases.
"I hope that Picasso
would be happy in knowing the treasure he's hidden for future generations is finally being revealed, 48 years after his death and 118 years after the painting was concealed," Oxia Palus co-founder George Can told
Robb Report
.
"I also hope that
the woman within the portrait would be happy in knowing that she hadn't been erased from history, and that her beauty was finally being revealed in the 21st century."
The "painting" will go
on display at the
Deeep AI Art Fair
in Shoreditch, East London, from October 13 to October 17.
[via
Robb Report
, cover image via
Oxia Palus
]
Receive interesting stories like this one in your inbox
Also check out these recent news