Don't miss the latest stories
Share this
Breadfruit Might Be The Versatile Key To Food & Everyday Materials Of The Future
By Ell Ko, 15 Oct 2021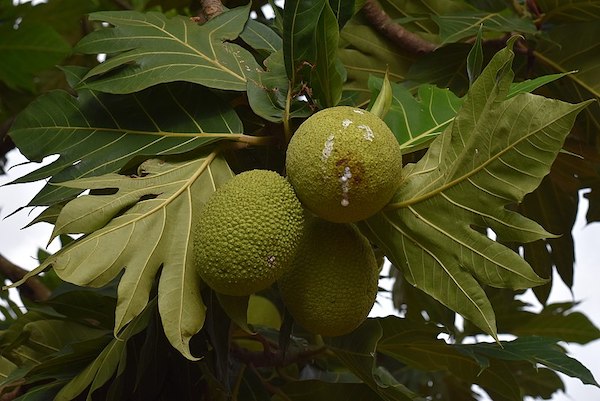 Image via Ashay vb / Wikimedia Commons (CC BY 4.0)
Lately, more sustainable
food options are being explored in an attempt to mitigate the effects of climate change.
Meat alternatives
have been in development for years, and even milk chocolate is
going vegan
.
But what if
the answer has been growing right above our heads this entire time?
After extensive research
done into what crops will be able to survive potential extreme weather thanks to global warming, scientists have zeroed in on one.
Breadfruit takes
the stage. This is, perplexingly, neither bread nor fruit.
Instead, it's more
like a potato that's grown on a tree, according to Lucy Yang of Northwestern University, Illinois, one of the authors of
a paper
on the subject. Due to its starchiness, it can be cooked like a potato and even turned into a new type of flour.
Breadfruit is already
considered a staple food in the South Pacific, and there are even cloths made from its inner bark in the South Seas. Furthermore, its milky juice provides substitutes for glue and caulk.
Native to tropical Africa,
these crops are described to be highly resilient, which is good news in context of a pending climate disaster. When the team examined climate models, they found that cultivated breadfruit trees would be able to withstand the test of time and warm climate, even all the way up to 2080.
At most, the overall
suitable area for these crops to grow are predicted to shrink by just 4% across the world. In comparison, other staple crops such as rice and wheat aren't expected to fare so well due to rising temperatures.
With breadfruit, however,
even if the yield decreases over time, what's most important is that the areas that can grow the crop today remain able to grow them further down the line. One such area pinpointed by the research is tropical Africa, where there is only a small amount of the crop being grown.
Despite existing for
so long, breadfruit is one of many examples of a food that can do a lot more than we give it credit for, Yang
explains
to
New Scientist
. "The scaling up of neglected and underutilized species will be important in terms of global food security."
"There's potential there
to expand breadfruit cultivation," says Daniel Horton, study co-author. "This tree may be able to have really positive impacts on food resilience and security."
[via
New Scientist
, image via
Ashay vb / Wikimedia Commons
(CC BY 4.0)]
Receive interesting stories like this one in your inbox
Also check out these recent news