Don't miss the latest stories
Share this
Earth Is Getting 'Dimmer' As It Loses Clouds, Reflectivity Due To Climate Change
By Ell Ko, 18 Oct 2021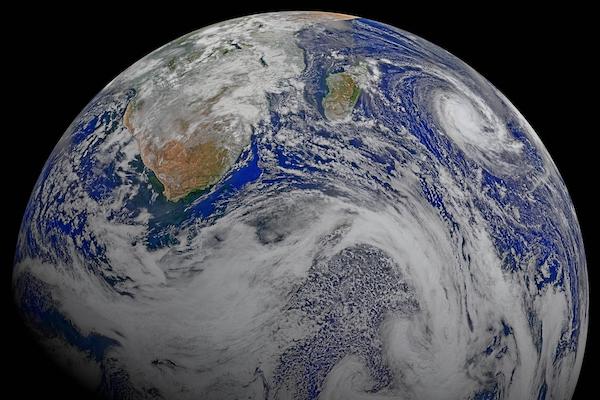 Image via NASA / GSFC
The reflectivity of
the Earth is called its
albedo
, and measures how much incoming sunlight is reflected back to space. This relies largely on cloud and ice cover on land in areas such as Greenland and Antarctica, and is a crucial component in our planet's radiation budget.
Throughout the
last few years, it has been recorded that the Earth is getting dimmer. In a vicious cycle, fewer bright clouds are generated by oceans because they're getting hotter, which means less sunlight is reflected away from the Earth, which warms up the planet even further.
A study published
last week in the journal
Geophysical Research Letters
examined around 20 years' worth of earthshine data, collected by the Big Bear Solar Observatory in Southern California between 1998 and 2017.
Measurements revealed
that the Earth reflects around just 30% of the sunlight that it receives, which is around half a watt less light per square meter compared to the first value taken in 1998.
Investigations also
found that the measures of solar cycle—the Sun's brightness—and albedo variations don't correlate, which indicates that something larger, to do with the Earth itself, is at play.
And that 'something'
points towards global warming.
"The recent drop
in albedo is attributed to a warming of the eastern pacific, which is measured to reduce low-lying cloud cover and, thereby, the albedo," the paper states. This data was tracked as part of NASA's Clouds and the Earth's Radiant Energy System (
CERES
) project.
It was found
that in the same areas—the west coasts of North and South America, for example—where bright clouds are thinning, ocean temperatures are rising.
"It's actually quite
concerning,"
reports
Edward Schwieterman, a planetary scientist who was not involved in the new study. Previously, it was hoped that the rising temperatures due to climate change might create a greater albedo, which would help to alleviate at least some of the disastrous warming. "But this shows the opposite is true."
[via
ScienceAlert
, image via
NASA / GSFC
]
Receive interesting stories like this one in your inbox
Also check out these recent news