Don't miss the latest stories
Share this
Companies Are Looking In The Wrong Places To Motivate Workers, So Many Have Quit
By Mikelle Leow, 21 Oct 2021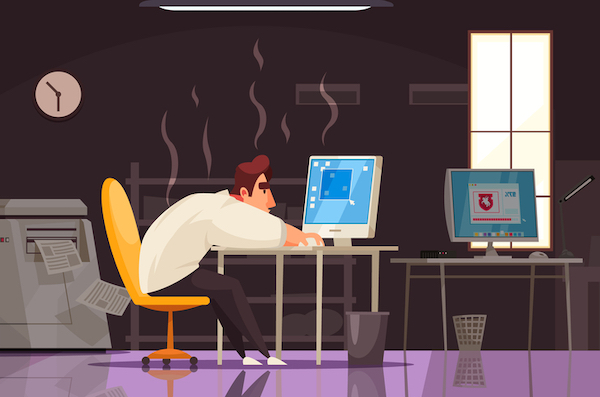 Illustration 225885643 © Macrovector | Dreamstime.com
A stunning McKinsey study
reaffirms that burnout is plaguing the workforce, and companies are bleeding in the aftermath. According to its research, more than 19 million employees in the US have resigned from their jobs since April 2021, leaving employers to reshuffle amid the frenzy of a remote working structure.
While you can't change
the past, it's important to gain foresight for what lies ahead; and it's not pretty, but the outcome is preventable. After surveying over 4,000 employees in the US, UK, Australia, Canada, and Singapore, McKinsey learned that 40% of workers "are at least somewhat likely" to quit their current job in the next three to six months.
But it's not that bosses
are becoming complacent. In the past year or so, many companies have armed themselves with competitive compensation packages, invested in diversity policies, as well as emphasized the importance of work-life balance and mental health, in hopes to keep morale up.
The study, however, reveals that a pivotal reason workers are leaving their jobs is that they don't feel like they belong in the organization.
"Employees are tired,
and many are grieving," note the article's authors. "They want a renewed and revised sense of purpose in their work. They want social and interpersonal connections with their colleagues and managers. They want to feel a sense of shared identity. Yes, they want pay, benefits, and perks, but more than that they want to feel valued by their organizations and managers. They want meaningful—though not necessarily in-person—interactions, not just transactions."
"Not just transactions."
The thing about bumping up salaries as the sole act of "appreciation" is that it could create the impression of the relationship being merely transactional. Workers might find that their intrinsic needs, like a sense of belonging, aren't being fulfilled.
This aspect hasn't always
been recognized by employees themselves, but the isolation brought on by the pandemic has made people come to the realization.
So, what can you do?
Rather than pursuing big-picture initiatives on diversity, for instance, it's important to ensure all workers feel valued as individuals, and as members of a community.
Fast Company suggests
that allowing access to one-on-one and group counseling sessions could show employees that you're on their side. In addition, given how some historically marginalized groups have been double-whammied by both the pandemic and attacks on their communities during this time, it's a good idea to remind them that you're listening and are an ally too.
Managers could also
arrange weekly one-on-one sessions to truly understand how individuals are doing and to help instill the sense that they belong. This time should be meant for building a connection, not just for tracking their work progress.
It's a crucial period
to find out why workers are choosing to stay in the company, and what would drive them to quit—so ask them. This way, you'll get a clear sense of how to prolong a positive working relationship and find ways to establish a safe and stable work environment for
everyone
.
[via
Fast Company
and
McKinsey
, cover illustration 225885643 ©
Macrovector | Dreamstime.com
]
Receive interesting stories like this one in your inbox
Also check out these recent news