Don't miss the latest stories
Share this
Giant Head Permanently Overlooks Jersey City Asking To Keep Quiet & Listen
By Mikelle Leow, 24 Oct 2021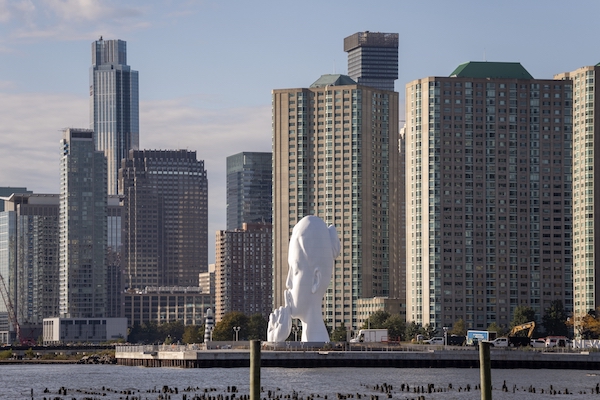 Jaume Plensa, 'Water's Soul' (2020). Photo: Tim Schenck, courtesy of GRAY and featured with permission
The storied Hudson River
waterfront now has a face to match.
Water's Soul
has been permanently installed there in Newport, Jersey City, New Jersey, as a reminder of water's quiet ability to elicit contemplation.
The 80-foot statue
of a young person's head was created by Spanish sculpture Jaume Plensa, and sits peacefully on the edge of the river with her finger to her lips, with eyes closed for inner reflection. The 3D portrait was constructed in polyester resin, fiberglass, and marble dust, and was carried to the US via 23 containers, according to
Bloomberg CityLab
.
Like much of Plensa's work,
Water's Soul
explores water's natural role as a proxy for humankind. "Water is a marvelous metaphor for humanity," Plensa described in a press release. "One drop of water is quite alone, like a single person, but many drops together can create a tidal wave, and form immense rivers and oceans; when individuals come together to exchange ideas and create community, we can build something incredibly powerful."
To the artist,
water is the ultimate public space and connects people in a profound way. For this reason,
Water's Soul
also aims to inspire bystanders to protect water, one of Earth's gifts, from the waning effects of climate change.
"As climate change already
threatens to take hold of our beautiful planet, we must join together to protect water as one of the most precious elements in nature," Plensa shared in a statement published by
Bloomberg
. "Water is the source of life, and
Water's Soul
is a tribute to that, it's a celebration of life."
The artwork's specific locale
pays homage to the historic Hudson River waterfront pier, a key area of trade with the New York Harbor in the 19th and early 20th centuries. It's an emblem of the pier's history that also reminds humanity of the possibilities of a brighter future. "
Water's Soul
is asking us for a bit of silence, it is asking to listen to its profound voice that speaks to us about the origin of the world and its memory," Plensa detailed.
"The Lenape,
the Native Americans who lived in this land before us were a deeply religious people and they believed that all things had souls. I believe in the spirit of water too, and its great capacity for connection and transformation. Water is the great public space—it does not belong to anyone and at the same time belongs to all of us."
The sculptor said
he wishes for the statue "to become Newport's figurehead" harmoniously guiding the community into the future.
"Visually connecting the city
of Jersey City and New York City across the Hudson River,
Water's Soul
reminds us that water is the great public space that has the power to unite people around the world."
[via
Bloomberg CityLab
, cover image courtesy of
GRAY
and featured with permission]
Receive interesting stories like this one in your inbox
Also check out these recent news