Don't miss the latest stories
Share this
Taiwan Creates 'Army Iron Man' Exoskeleton That Boosts Military's Powers
By Ell Ko, 28 Oct 2021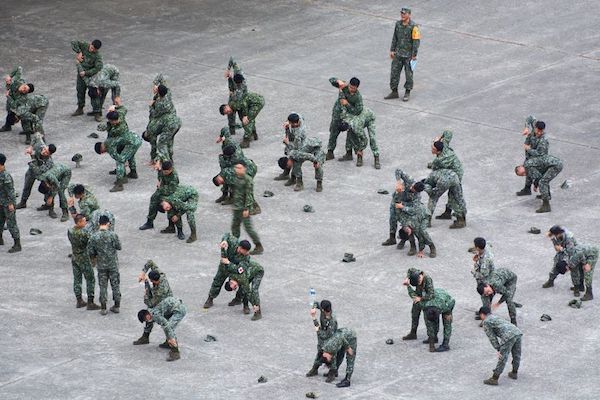 Image via ID 182448765 © David Carillet | Dreamstime.com
One thing that insects
appear to be better than humans at is having an exoskeleton. But like most other things, if you can't make it yourself, store-bought is fine.
Taiwan appears to
have done just this. The National Chung-Shan Institute of Science and Technology, the country's main weapons manufacturer, has come up with a battery-powered wearable exoskeleton to enable soldiers to run faster and carry heavier objects, enhancing their overall endurance.
It's part of a
larger project, dubbed the 'Taiwan Ironman', which set out with a NT$160 million (US$5.74 million) budget with the goal to develop a lower-body exoskeleton. It appears to have reached this aim with the suit, which is named the 'Army Iron Man' system.
The South China Morning Post
reports that at a press conference, Jen Kuo-kuang, head developer of the Taiwan Ironman project, stated that the project was started in 2020 with the aim of reducing fatigue in soldiers "in carrying heavy facilities."
It works through
reducing the stress on leg and hip joints over long distances, which will come in handy during disaster rescue or combat. It'll also be able to "increase the mobility and efficiency of the troops in wartime and post-disaster rescue missions," Jen reportedly stated.
🇹🇼 Taiwan introduced lower body exoskeleton. Purpose: in wartime for military personnel during rescue operations and liquidation of the consequences of natural disasters. Weight is 10 kg, travel speed - 6 km / h, lithium battery life - 6 hours.#Taiwan pic.twitter.com/QdGkPeUeI3

— Military Rage X (@MilitaryRage) October 26, 2021
The suit unveiled
on Tuesday was just Version 1.0, which focuses on enhancing knee endurance. The battery powering it is a lithium module, which lasts up to six hours on a single charge.
Taiwan News
has also noted that it will enable its users to move at a maximum speed of 6km per hour (3.7 miles per hour) while weighing less than 10kg (22lbs).
However, there are
plans for Version 2.0 to be released by 2023. This will allow soldiers to carry weights of up to 100kg (220lbs).
國防部今日召開例行記者會,由 #國家中山科學研究院 說明「軍用動力外骨骼系統」研發與應用;計畫主持人 #任國光博士 表示,記者會所展示的下肢型動力外骨骼(膝關節),未來可應用於戰場上砲彈之彈藥搬運、重武器操作、傷患救助等,有效節省操作人力,提升作戰效率。 pic.twitter.com/vwSIHAOcX9

— 軍聞社 Military News Agency, ROC(Taiwan)🇹🇼 (@mna_roc) October 26, 2021
[via
Futurism
, cover image via ID 182448765 ©
David Carillet | Dreamstime.com
]
Receive interesting stories like this one in your inbox
Also check out these recent news