Don't miss the latest stories
Share this
John Lewis Withdraws Controversial Commercial For Being 'Potentially Misleading'
By Mikelle Leow, 28 Oct 2021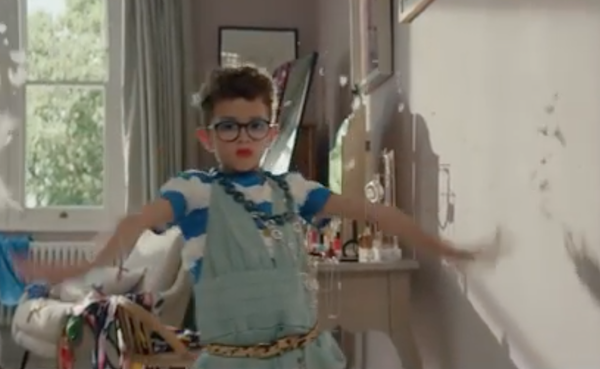 Video screenshot via John Lewis / AdForum
John Lewis has had
a busy month, and it was all because of an advertisement. A few weeks ago, the UK luxury department chain's insurance wing released a video of a young boy—with makeup, jewelry, and a dress on—romping around a house and creating a mess. It turns out that the house wasn't the only thing he was turning topsy turvy; he also shook the real world, as viewers had been irked by the campaign for several reasons.
News outlets reported
numerous complaints of the
Let Life Happen
home insurance commercial being "
sexist
," "
stupidly provocative and divisive
." Audiences also gawked at the supposed encouragement of the boy's "
entitled
," rowdy behavior.
The John Lewis advert of a young boy being the centre of attention for trashing everything while his sister obediently sits and paints in a corner is sexism encapsulated in sixty seconds

— Frances Weetman (@francesweetman) October 13, 2021
I really hate the John Lewis ad. I hate the idea of a kid going from room to room systematically breaking and spoiling things that other people in the house might love and leaving a horrible mess that will take hours to clean up. Poor sister. Poor mum.

— Lissa Evans (@LissaKEvans) October 13, 2021
The Drum reported
that 130 complaints were made to the UK's advertising watchdog, the Advertising Standards Authority. Still, none of these reasons were enough to convince John Lewis to take the campaign down.
"At John Lewis,
we believe in children having fun and that's why we chose this playful storyline for our latest advert. It's designed to show the young actor getting carried away with his dramatic performance," John Lewis initially wrote. "He is not wilfully damaging his home and is unaware of the unintentional consequences of his actions. If customers have Accidental Damage Cover with our Home Insurance, this would cover a range of major and minor home disasters — including unintentional breakages caused by children in the family."
Push eventually came
to shove, and the company removed the video—albeit for another reason. According to
The Guardian
, regulators at the Financial Conduct Authority (FCA) warned that viewers could be misled into thinking John Lewis' insurance policy would cover the deliberate wreckage of a home by a child. The authority reiterated that advertising for financial services "must be clear, fair, and not misleading."
John Lewis later
released a statement to confirm the withdrawal of the short-lived
Let Life Happen
campaign, which only ran between October 11 and 27. "This advert has been withdrawn because the Financial Conduct Authority considers the content to be potentially misleading and could cause customers to be confused about John Lewis' new home contents insurance offering. This was absolutely never our intention."
The company once again
justified that the video was meant to be "a joyful depiction of a young actor getting carried away with his performance, oblivious of the unintentional consequences of his actions."
To ensure customers
who have purchased the package are aware that it's only for accidents, John Lewis said it would reach out to all relevant customers "to confirm they understood these points and are happy with their purchase."
While the advertisement
has been pulled from official channels, it can still be viewed through
third-party uploads
.
Video via Metro.co.uk
[via
The Guardian
,
Ad Age
,
The Drum
, cover image via
John Lewis / AdForum
]
Receive interesting stories like this one in your inbox
Also check out these recent news