Don't miss the latest stories
Share this
Bill Gates' Eco Venture Backs 'Neutral' Milk To Moove Industry's Emissions Down
By Alexa Heah, 28 Oct 2021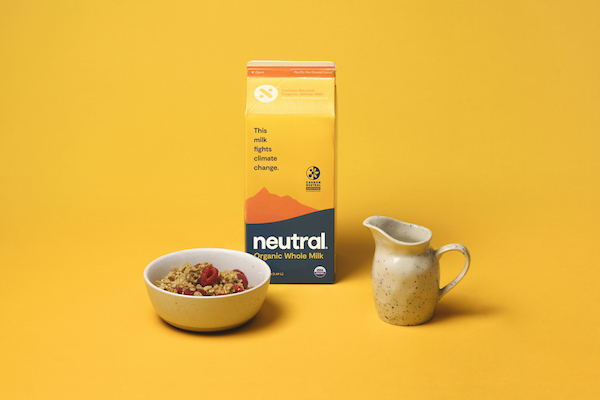 Image via Neutral
Neutral, an eco-conscious milk
brand that aims to "fight climate change," recently received funding from Breakthrough Energy Ventures (BEV), Bill Gates' venture capital fund.
"All in all,
dairy accounts for 3% of all global emissions, more than the entire aviation sector, and by working with farmers to reduce emissions, Neutral Foods is addressing one of the largest areas for climate impact," said Carmichael Roberts, Business Lead of BEV's Investment Committee.
The dairy brand,
which recently hit shelves at Whole Foods, produces carbon-neutral milk by working with farmers to reduce emissions, before offsetting the remainder.
Some ways in which
Neutral is helping to reduce its carbon footprint include studying the methane produced by cows, and delivery trucks' emissions on the road. It then partners dairy farmers to fund changes that could help reduce the amount of carbon produced.
"Because consumers
are buying this milk, we're investing directly in dairy farms on climate reduction technologies and projects," explained Marcus Lovell Smith, CEO of Neutral.
According to
Fast Company
, this year, the firm teamed up with three family-owned dairy farms to grow pastures of plants rich in tannins, a substance cows enjoy grazing on, which helps to reduce the amount of methane they produce. It is also setting up new systems to deal with manure to further reduce greenhouse gases.
In order to offset
the emissions it can't minimize, Neutral purchases certified offsets from other players in the industry, such as dairies that use methane digesters or equipment that turns manure into usable energy.
Smith has said the
company is planning to invest in "regenerative" solutions, which will include planting cover crops on farms to reduce emissions escaping into the atmosphere. However, these techniques could still take some time to come to fruition, as research is only in its initial stages.
Looking ahead,
Neutral hopes to sell other types of carbon-neutral foods, though it will continue working with dairy due to the size of the market.
Smith explained:
"I think still to this day, 93% of American households have milk in their refrigerator. So it's a pretty universal foodstuff, and therefore, it's an important place to start."
[via
Fast Company
, images via
Neutral
]
Receive interesting stories like this one in your inbox
Also check out these recent news