Don't miss the latest stories
Share this
BMW Flaunts Circular Concept Car That 'Falls Apart' With Push Of A Button
By Ell Ko, 12 Nov 2021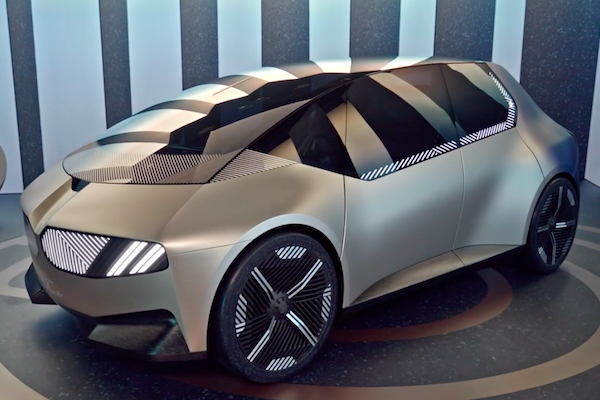 Image via BMW
BMW is currently
showcasing a concept car built on the principle of circularity at the
Sustainable Innovation Forum
at the COP26 climate conference. This vehicle, the '
i Vision Circular
', is assembled with its disassembly in mind: It'll "fall apart" at the push of a button.
Rather than being
held together with permanent adhesives, detachable connections are used to piece together car's components, allowing for easier separation and reuse. Quick-release buttons make it easy for the car to be taken apart to replace or repair its components, or take apart at its end of life—a further incentive to do so.
These buttons took
inspiration from the Boa lacing system on snowboarding boots, according to
Dezeen
. This means that the parts are strung together on a wire, and this can be tightened or released in just one move.
The company's head
of sustainability design, Daniela Bohlinger, further explains to
Dezeen
that "wherever this button is, it symbolizes disassembly. You can push it and, whatever it is, it falls apart." Yes, even a car.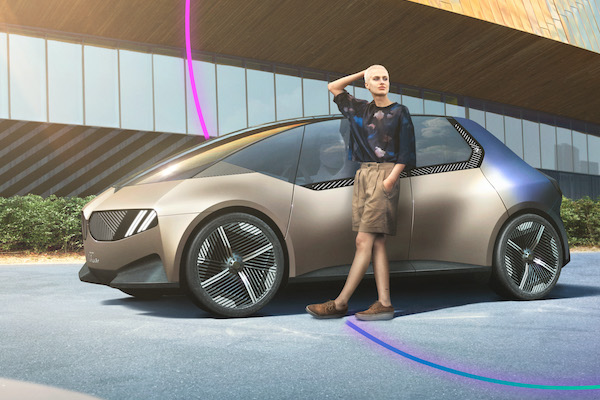 Image via BMW
BMW has described
that the "overriding design aim" in the i Vision Circular was to create a car "optimized for closed materials cycles and achieves 100% use of recycled materials / 100% recyclability." This saw the design team focusing on secondary materials, such as aluminum and steel, which are obtained through recycling waste material.
Image via BMW
Where material isn't
necessary, it's forgone entirely and other methods are used instead. For example, the brand logo on the front. With the i Vision Circular, it was laser-etched onto the existing surface rather than onto an add-on part like many of BMW's other cars.
Another example is
replacing the conventional chrome surround and bars on the kidney grille. Now, the element has been "newly interpreted" as a digital surface. It also features a discreet line graphic, which is something that can be seen woven throughout the car's design as a minimalist decorative touch.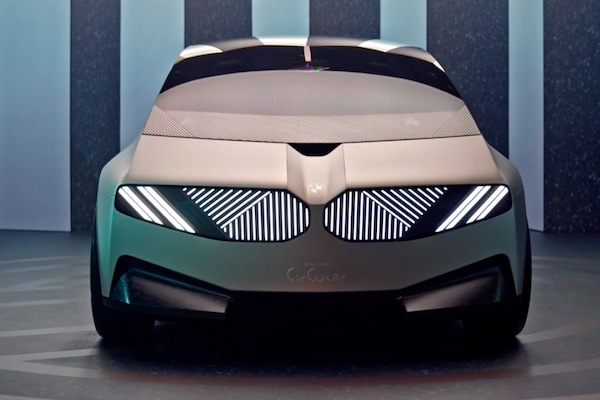 Image via BMW
Rather than paintwork
on its exterior, BMW has "deliberately" retained the natural hues from the car's secondary aluminum, complete with a light-gold anodized finish. This calm Anodized Mystic Bronze shade contrasts with the a richly colored surface at the rear, thanks to heat-treated steel. The process results in a Temper Blue Steel, described as "an alluring interplay of bluish purple."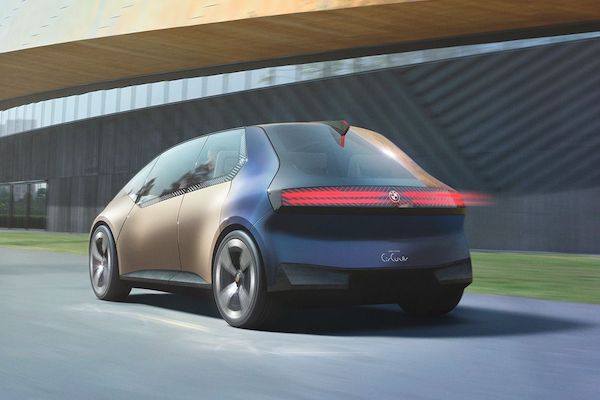 Image via BMW
"Lowering the carbon
footprint is our main target," Bohlinger reiterates. "The circular economy is a tool to address this topic when it comes to product design."
Unfortunately, this
innovative concept car is not planned for production anytime soon. However, it serves as a statement to show how the automotive design industry could move towards a largely circular future, cutting down on material waste as well as carbon emissions that come with material production.
Image via BMW
"The BMW i Vision Circular
illustrates our all-encompassing, meticulous way of thinking when it comes to sustainable mobility," explains Oliver Zipse, Chairman of the Board of Management of BMW, in a
statement
. "We lead the way for resource efficiency in production and we are seeking to extend this status to all stages of the vehicle life cycle."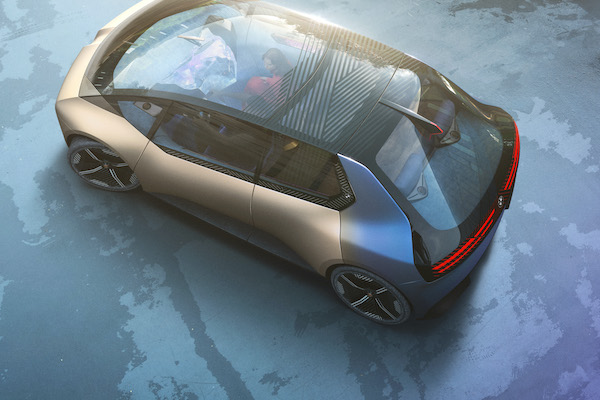 Image via BMW
A circular approach ♻️. #THEiVisionCircular represents our vision of circular design — utilising closed material cycles and 100% recycled or secondary materials. #BMWGroup #SustainableSunday pic.twitter.com/8DbrdBopeB

— BMW Group (@BMWGroup) November 7, 2021
[via
Dezeen
, all images via
BMW
]
Receive interesting stories like this one in your inbox
Also check out these recent news