Don't miss the latest stories
Share this
Mattel Showcases Life-Sized Barbie Concept Car At LA Auto Show
By Mikelle Leow, 18 Nov 2021
​​​​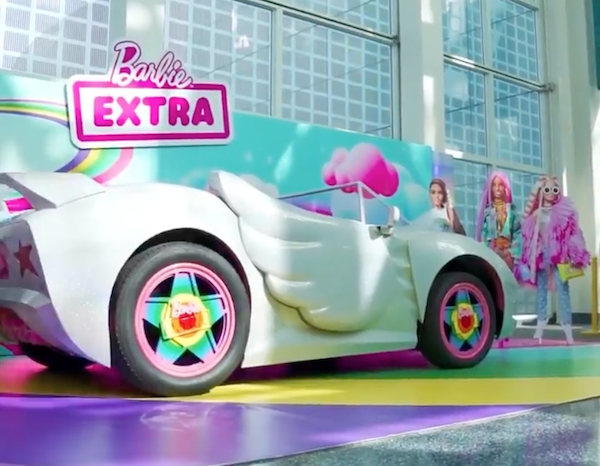 Image via LA Auto Show

You'll need to be old enough to drive to use Barbie's new car.

Among serious contenders like Porsche, Tesla, and Hyundai, Mattel stood out at the Los Angeles Auto Show with a human-sized convertible featuring a dazzling, plasticky exterior one could only associate with Barbie.


The @Barbie Extra Car is the talk of the show https://t.co/kZKWhXyFKX pic.twitter.com/wZi1x0AJWv

— Roadshow (@roadshow) November 17, 2021
The 'Barbie Extra' car
concept lives up to its name. It sports a sparkly silver finish, star-shaped headlights, wings as doors, rainbow-rimmed wheels, and Barbie branding on the hood and wheels—qualities you'd never find on a basic car.
The two-seater interior
is, of course, outfitted with the quintessential Barbie pink, along with furry seats.
To answer the question
at the back of your head, yes—it's indeed drivable.
CNET
reports that the car is a Fiat 500e, which means it's all-electric too. The vehicle boasts 111 horsepower, 147 pound-feet torque, and up to 100 miles of range.
Unfortunately, the life-sized car
will not make it to market, and is simply a publicity stunt for the all-new toy-sized Barbie Extra Vehicle, retailing for US$29.88 on
Walmart
.
Similarly, the miniature
version is good for two (Barbies), though the open-top rear can also fit one toy puppy.
According to CNET,
the magnified version took two and a half months to build. To bring it to life, the Barbie design team scaled up the toy car's own CAD files and then cut out the design in foam, as well as 3D-printed the wheels.
This is @Barbie's new ride. 6 y/o me would have died for this. It's appropriately called "Barbie Extra Car." There's the toy version in stores, and just one full size version. Nope, that one's not for sale.👇 @Mattel @LAAutoShow pic.twitter.com/V8olmrDs1l

— Parija Kavilanz (@ParijaKavilanz) November 17, 2021
Revving up to reveal something BIG. #BarbieEXTRAGoesTurbo pic.twitter.com/vvMV1T90kM

— Barbie (@Barbie) November 16, 2021
[via
CNET
, images via various sources]
Receive interesting stories like this one in your inbox
Also check out these recent news