Don't miss the latest stories
Share this
Nvidia Flaunts Art AI That Paints Realistic Pictures Just From Text You Give It
By Mikelle Leow, 23 Nov 2021
​​​​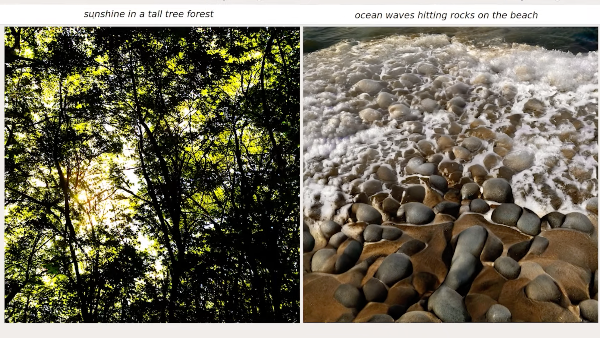 Video screenshots via Nvidia

Nvidia has been developing artificial intelligence art tools perfect for people who aren't born painters. Earlier this year, the graphics processing giant launched 'Canvas', an AI painting app that transforms amateurish doodles into full backdrops. Now, you don't even need to use your mouse or stylus—a few words are all it takes to channel your inner Claude Monet.

'GauGAN', the deep learning tool named after post-Impressionist artist Paul Gauguin that powers this technology, has been improved to generate beautiful photorealistic landscapes from scratch with a prompt of just three or four words. If you're a wordsmith, adding another adjective or changing up the phrase will create a different look in real-time.

Enter "sunset at a rocky beach," for example, and you'll find an AI-created picture that shows just that. You can then replace "sunset" with "afternoon" or "rainy day" to switch up the scene.


Video screenshot via Nvidia
To fully tap into
your creative abilities, the software can even go back to converting rough sketches, allowing the artist to mix text with imagery to bring their vision to life more quickly and easily.
AI of this kind
usually has only one specialty, like inpainting or style transfer. This version, GauGAN2, however, packs multiple modalities of segmentation mapping, inpainting, and text-to-image generation into a single machine learning framework called a generative adversarial network (GAN).
"Rather than needing to
draw out every element of an imagined scene, users can enter a brief phrase to quickly generate the key features and theme of an image, such as a snow-capped mountain range," the company explains. "This starting point can then be customized with sketches to make a specific mountain taller or add a couple of trees in the foreground, or clouds in the sky."
The image can keep
evolving in tandem with the imagination, as "every word the user types into the text box adds more to the AI-created image." You can get the AI to "paint" realistic pictures using vocabulary related to the weather, though it can also handle more fantasy-based prompts by, say, adding a second sun per your request.
The impressive image maker
can be tested on
Nvidia AI Demos
.
#GauGAN2
"Blue Forest" pic.twitter.com/W6Wcwy7YUU

— Merzmensch Kosmopol (@Merzmensch) November 22, 2021
Text input only.
"A city full of buildings"#GauGAN2 pic.twitter.com/83BsMJN94g

— Merzmensch Kosmopol (@Merzmensch) November 22, 2021
Trying @NVIDIAAI #GAUGAN2 > input: "The Land of Certain Death" pic.twitter.com/Xmd0vTSw8D

— Giulio Bordonaro (@GiulioBX) November 22, 2021
"Universe"#GauGAN2 pic.twitter.com/9ZVdRImtAL

— Merzmensch Kosmopol (@Merzmensch) November 22, 2021
[via
PetaPixel
, video and images via
Nvidia
]
Receive interesting stories like this one in your inbox
Also check out these recent news