Don't miss the latest stories
Share this
Someone Lost Their 'Hangover Prevention Ring' While Out Drinking In 7th Century
By Ell Ko, 24 Nov 2021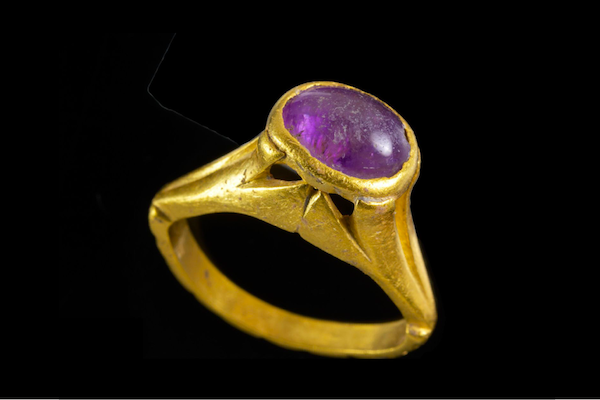 Image via Israel Antiquities Authority
Of the myriad hangover
cures that people swear by, not many of them involve jewelry. But a discovery in an ancient winery in the city of Yavne, Israel, suggests that our predecessors might've been onto something.
The largest-known
winery of the Byzantine era revealed an amethyst ring that may have been worn by the owner in order to ward off the less-than-desirable effects of drinking too much—a fitting site for its discovery.
CNN
reports
that the ring was found just under 500 feet away from a warehouse with amphorae, storage jars for wine, inside.
Amethyst was believed
to have many positive effects on the wearer, archaeologists stated. Amir Golani, an ancient jewelry expert in the Antiques Authority, explains that the stone has "many virtues attached to it," and one of them was hangover prevention.
Apart from this, amethyst
has also been mentioned in the Bible as one of just 12 stones fitted into the High Priest's
ceremonial breastplate
.
Image via Israel Antiquities Authority
Although the site
was dated to approximately the seventh century, the ring could have been older. According to a
press release
, the ring might've been worn by an elite member of the community as early as the third century. It's also possible that, due to its "beauty and prestige," it had been passed down through generations all that time.
With the stone laid
in gold, it can be presumed that the owner was of high status and wealth. Men and women alike could've worn a ring like this, Golani continues, and there's no knowing who the owner of this particular piece was.
Perhaps it was a foreman,
or the very owner of the winery. Perhaps it was someone who was out to have a good time, and upon reaching that goal, lost their ring in the process. And perhaps they only noticed its disappearance upon the dreaded hangover setting in the next morning.
[via
CNN
, all images via
Israel Antiquities Authority
]
Receive interesting stories like this one in your inbox
Also check out these recent news