Don't miss the latest stories
Share this
Bison Uncover Trove Of Ancient Rock Art In Canada, As The Prophecies Foretold
By Alexa Heah, 26 Nov 2021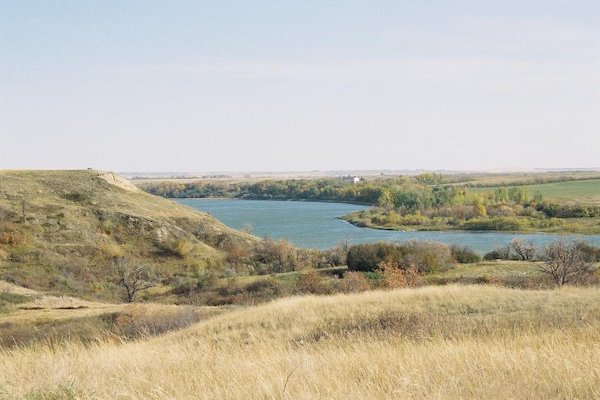 Image via Wanuskewin Heritage Park
Back in December 2019,
the Wanuskewin Heritage Park reintroduced bison to land inhabited by Canada's First Nations people, over a century after the creature was nearly hunted into extinction. The Elders of Wahpeton Dakota had long believed the bison would bring them good luck, and as it turns out, it took less than a year for fortune to bear fruit.
The bison, just eight months
after they were released, chanced upon a series of ancient rock carvings—otherwise known as petroglyphs—and the tools indigenous settlers used to create the art a millennia ago. The park's chief archaeologist, Ernie Walker, and bison manager, Craig Thomas, had discovered the animals' findings near a spot where they usually took dust baths.
Initially, upon seeing
the carved rocks, Walker had assumed the markings were made by modern tools. However, after looking through more of the trove, he realized these were petroglyphs.
"They were all parallel,
all symmetrical. It was at that point I realized this [was] actually what is known as a petroglyph. This was intentionally carved," Walker told the
Smithsonian Magazine
.
According to Artnet News,
as the animals rolled around in the dirt, they had revealed a 550-pound boulder carving of a bison's ribs, which is known as a "ribstone."
The first petroglyph discovered was the "Bison Ribstone". Elders felt it was important not only protect them but also display them to help educate the youth about culture. This stone can be seen in our new exhibit hall. @SaskSchoolBoard @SKGov @SaskTeachersFed #SKEducation
· pic.twitter.com/ZHtbptKwl3

— Wanuskewin (@Wanuskewin_Park) November 23, 2021
Upon further investigation,
three more carvings were found: a larger stone carved with a grid pattern, a smaller specimen with pits and grooves, and a 1,200-pound boulder marked with lines. Among the findings, one of the most exciting discoveries was of a stone knife used by the ancient people to carve the petroglyphs.
"We'd found the detritus
of everyday living: broken stone tools and debris from the manufacture of stone tools, bones, charcoal, potsherds, seeds, and things like that," explained Walker.
"The elders used to
tell us when the bison came back, that's when there'll be a good change in our history. We've been down a long time. But it feels like we are starting the way up," said Wahpeton Dakota Elder, Cy Standing.
When Walker and Thomas
first uncovered the petroglyphs, they had sought the elders' advice, in terms of spiritual guidance, on what to do with the artifacts. While most First Nations believe that rocks are sacred and shouldn't be moved, the elders agreed that in order to preserve these ancient specimens, it was best to move them into a museum.
"You know, we don't
really know our history. We have oral history. But all the books were written after contact. [The petroglyphs] show us more. We had a good life. Our children need to know that so they can go forward," said Standing.
ARCHAEOLOGISTS@VisitSaskatoon @Saskatchewan @ITAC_Corporate @TIAC_AITC @DestinationCAN https://t.co/lGOGkVbweB pic.twitter.com/dyJomc3Xe5

— Wanuskewin (@Wanuskewin_Park) November 22, 2021
[via
Artnet News
, cover image via
Wanuskewin Heritage Park
]
Receive interesting stories like this one in your inbox
Also check out these recent news