Don't miss the latest stories
Share this
Collins Dictionary Beats Out All Others To Announce The Obvious Word Of The Year
By Alexa Heah, 26 Nov 2021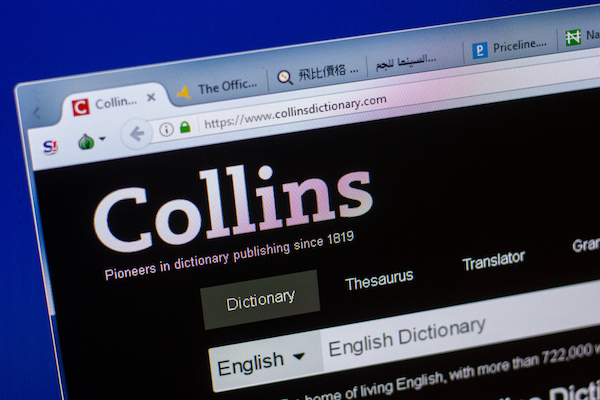 Image via Sharaf Maksumov / Shutterstock.com
If you've spent time
on the internet this year (and who hasn't?), there's no doubt you'd have come across the acronym NFT. The abbreviation, which stands for
non-fungible token
, has seen such as "meteoric" rise in usage that Collins Dictionary has made it its word of the year, of course.
In fact, "NFT" was used
11,000% more often this year, which isn't all that surprising, considering that this new digital craze has fetched
incredible prices
in the real world.
According to Collins,
an NFT is defined as "a unique digital certificate, registered in a blockchain, that is used to record ownership of an asset such as an artwork or a collectible."
The dictionary's lexicographers
said they chose it as the Word of the Year as it encapsulated a "unique technicolor collision of art, technology, and commerce" that broke through "the COVID noise" to become a term most of us are familiar with.
"It's unusual for
an abbreviation to experience such a meteoric rise in usage, but the data we have from the Collins Corpus reflects the remarkable ascendancy of the NFT in 2021, said Alex Beecroft, Collins Learning Managing Director.
"NFTs seem to be
everywhere, from the arts sections to the financial pages and in galleries and auction houses and across social media platforms. Whether the NFT will have a lasting influence is yet to be determined, but its sudden presence in conversations around the world makes it very clearly our word of the year," he explained.
Some technology-adjacent
words that "NFT" beat to clinch top spot included "crypto," short for cryptocurrency; and 'metaverse', a term coined in the 1992 novel
Snow Crash
that has now come to mean a three-dimensional virtual world, as per
The Guardian
.
Other frontrunners were
COVID-related phrases, such as "hybrid working" and "double-vaxxed." Interestingly, the word "neopronoun" also saw a rise in usage, referring to a "recently coined pronoun, especially one designed to avoid gender distinctions."
Here's the list
of the top 10 words of the year:
1. NFT
"A unique digital certificate,
registered in a blockchain, that is used to record ownership of an asset such as an artwork or a collectible."
2. Cheugy
"No longer regarded
as cool or fashionable."
3. Climate anxiety
"A state of distress
caused by concern about climate change."
4. Crypto
"A decentralised digital
medium of exchange which is created, regulated and exchanged using cryptography and (usually) open-source software, and typically used for online purchases."
5. Double-vaxxed
"Having received two
vaccinations against a disease."
6. Hybrid working
"The practice of
alternating between different working environments, such as from home and in an office."
7. Metaverse
"A proposed version
of the internet that incorporates three-dimensional virtual environments."
8. Neopronoun
"A recently coined
pronoun, especially one designed to avoid gender distinctions."
9. Pingdemic
"The large-scale
notification of members of the public by a contact-tracing app."
10. Regencycore
"A style of dress
inspired by clothes worn in high society during the Regency period (1811–20)."
[via
The Guardian
, cover image via
Sharaf Maksumov / Shutterstock.com
]
Receive interesting stories like this one in your inbox
Also check out these recent news