Don't miss the latest stories
Share this
Damien Hirst Releases 10K Free NFTs Expanding On Drake's Iconic Album Cover Art
By Mikelle Leow, 26 Nov 2021
​​​​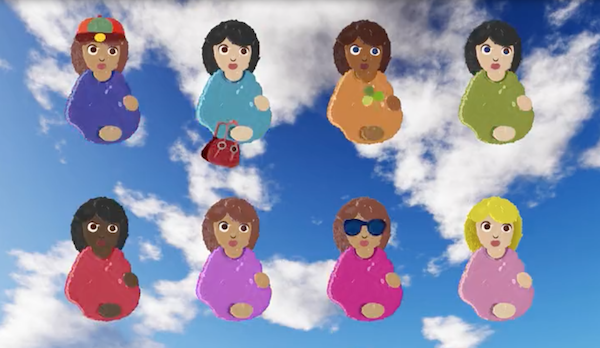 Video screenshot via Damien Hirst

That polarizing Drake album cover by Damien Hirst has a sequel. With the rapper's permission, the conceptual artist has created 10,000 unique variations of the pregnant women emoji collage on the Certified Lover Boy album.

The digital pieces form a new non-fungible token art project called Great Expectations and were released for free as a Thanksgiving present to all cryptocurrency holders, according to a string of tweets by Hirst. Developed by way of NFT creativity ecosystem Palm NFT Studio, they're now available on the HENI marketplace.


Great Expectations

(1/10) Everything done well is art. With Drake's support and blessing, I've created this free Thanksgiving gift for all currency NFT holders; it's loosely based on the album cover I made for Drake. pic.twitter.com/IlB0EjpGrg

— Damien Hirst (@hirst_official) November 25, 2021
Each artwork features
a grid of emoji-inspired women whose pregnant bodies are made up of Hirst's dots and blobs. Although they all retain the same style, no two NFTs are alike, but some characteristics and combinations "are rarer than others," per the description on the HENI website.
​​​​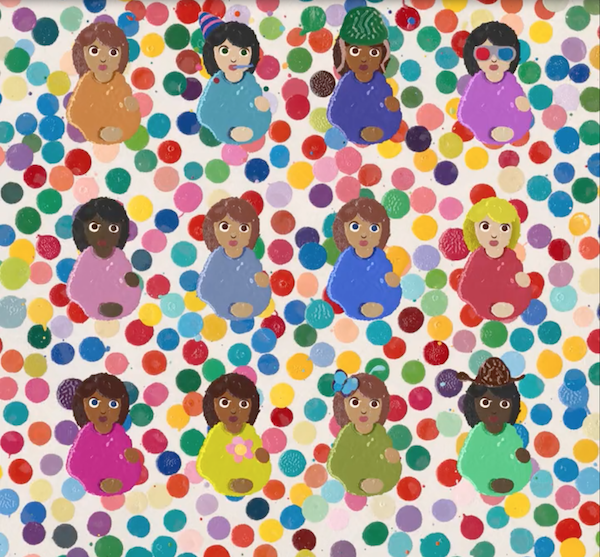 Video screenshot via Damien Hirst
With this project,
Hirst finally explains the inspiration behind the baffling Drake cover: The
Certified Lover Boy
art is, unmistakably, a reimagination of Hirst's famed dot paintings, but it's also a symbol of the birth of possibilities. "It's a dot painting made of emojis," he writes, adding that he wanted to capture "the powerful hope-filled love, humor and daring truth in the music of Drake for his album cover" in a simple way.
"And now my hope
is that with this free gift you can all share and feel the excitement I feel about NFTS and the digital world," the artist elaborates.
When the Certified Lover Boy
album cover was first showcased to the world, people were both confused and amused. That was the response Hirst had envisioned when creating the piece—"It had to be ironic while remaining iconic, it had to be optimistic and hopeful, international, a thing of beauty that everyone and anyone could relate to and understand, and it absolutely had to be something that looks amazing on your phone," says Hirst, further remarking that the work feels "throwaway" yet "timeless."
"I wanted it to say
everything and nothing at the same time. [For it] to be something for everyone," notes the artist. And although emojis seem effortless, "we worked hard on this."
So, why feature
pregnant women? "I figured that everybody loves their mother (well almost everybody)," Hirst clarifies. "Everybody loves babies and the future, everybody loves color, everybody loves art, everybody loves freedom and everyone loves emojis. What's life about? If it isn't about the hope of motherhood?"
"Ideas are born,
families are born, art is born, images are born, music is born; and all before we die. I imagine that inside the 12 bellies are 12 gifts representing infinite possibilities. Like Pandora's box."
Specifically, Great Expectations
is a remix of "the splats and blobs and drips and dribbles" found in Hirst's other 10,000-piece NFT collection,
The Currency
.
Like the Drake album cover art,
Great Expectations
is "a thing to talk about, that you can't ignore." Its spectrum is meant to "communicate to people who haven't been born yet" the complexities of what people today are experiencing.
But complexity is just
another funnel for possibility. "We are inventing the future together," Hirst explains. "The possibilities are infinite. All roads lead to the same place. Earth is magical. We are born, we look around, we die."
[via
Damien Hirst
]
Receive interesting stories like this one in your inbox
Also check out these recent news