Don't miss the latest stories
Share this
Kraft Is Covering Protection Expenses For People Allergic To Peanut Butter
By Mikelle Leow, 29 Nov 2021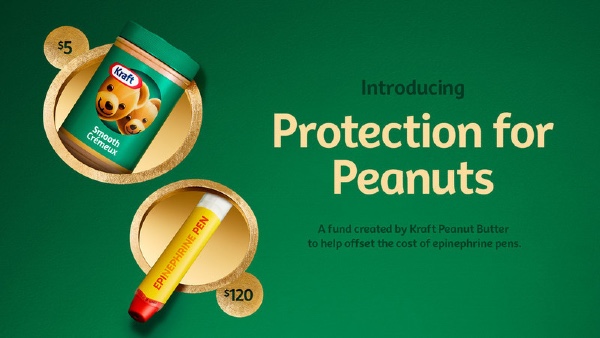 Image via CNW Group / Kraft Heinz Canada
More than 2.6 million
Canadians have a severe peanut allergy and would even require life-saving medical help if exposed to the legume. Surprisingly, Kraft Heinz Canada, which produces peanut butter, is putting these 2.6 million individuals at the forefront of its latest do-good initiative.
People with peanut allergies
often have to purchase their own EpiPens, short for epinephrine auto-injector medication, which cost significantly more than Kraft's own peanut butter—up to 25 times, to be exact—depending on the healthcare in various provinces, as reported by Canadian marketing news site
The Message
.
Kraft Canada pledges
to "stick together" with the community by covering the costs for affected individuals with less than 100% coverage—AKA customers who are less likely to buy its product—with a new Protection for Peanuts fund.
"As the market leader
in the peanut butter category, we are deeply connected to the food allergy cause and saw a unique opportunity to spark a national conversation," explains Daniel Gotlib, associate director of brand building and innovation at Kraft Heinz Company in Canada. "We're proud to offer support to those affected by food allergies and hope this contributes to long-term change, because life-saving medication really shouldn't cost more than a jar of peanut butter."
National Hockey League
player Alexis Lafrenière, who has a lifelong peanut allergy and was enlisted for the campaign, describes: "I've relied on my allergy medication to keep me safe my whole life; many may not know this, but you need more than one injection pen—and they expire every year… as somebody who lives with a peanut allergy, I am grateful that Kraft Peanut Butter is supporting the food allergy community with such an important cause."
Affected individuals in Canada
can apply for the fund with their EpiPen receipts on
ProtectionforPeanuts.ca
. Reimbursements will begin on December 10.
[via
The Message
, cover image via
CNW Group / Kraft Heinz Canada
]
Receive interesting stories like this one in your inbox
Also check out these recent news