Don't miss the latest stories
Share this
2021 Pet Name Study Shows 'Zoom' & 'Fauci' Rising In Popularity, Among Others
By Alexa Heah, 02 Dec 2021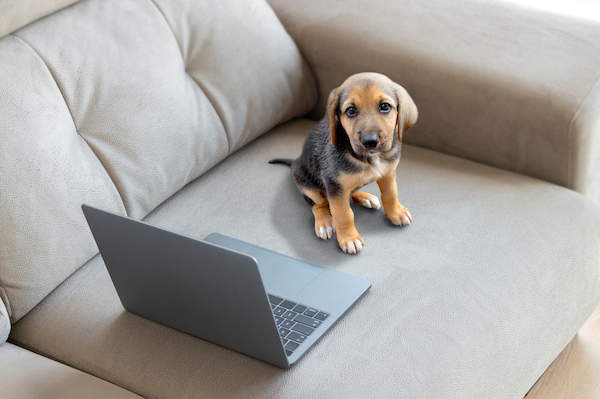 Image ID 196760884 © via Cunaplus | Dreamstime.com
On your next trip
to the park, look out for dogs named Zoom, Fauci, or Britney, because according to Rover's annual report, COVID-19 pet names have been trending this year.
The site thinks
the surge in unique monikers has to do with higher adoption rates (because everyone's lonely in quarantine) and a greater amount of time spent at home. The report, which was recently released, was based on millions of user-submitted names that owners provided when registering their pets on the webpage.
"Some people may
pick a name that they just think really reflects their pet's quirky personality. But at the end of the day, what they're really trying to do is honor the relationship they have with their pet and give them a name that showcases their pet's personality and also shines a little bit of light on their own personality," Kate Jaffe, Rover's Director of Brand Marketing, told
CNN
.
It was reported
that dogs named Zoom rose by 443% from the previous year, while 270% more owners referred to their beloved pets as Fauci. Virtual assistants made for popular names, too, with 131% more dogs being named Siri.
Nicole Ellis,
a professional celerity dog trainer at Rover, posited that names like Zoom could've risen in popularity as they remind owners of when they brought home their pets, or forged a deeper relationship with them.
"That's the time
we can look back and be like, 'A puppy (with a) COVID-related name, did you get him during COVID?' And now we have a great conversation starter," explained Ellis.
As usual, celebrity names
fared well, with dogs named Boseman spiking 1,063% and cats named Chadwick going up 400% in honor of the late
Black Panther
actor, Chadwick Boseman. Britney Spears—who has been in the spotlight due to conservatorship issues—also saw an increase.
Interestingly, names
such as Ellen, Kanye, and Taylor Swift didn't do so well in 2021. Though, with Swift releasing more re-recorded tracks, Jaffe expects her name to trend again in the new year.
Food names, especially
those of French origins, surged as well. Dogs named Caviar went up by 800%, with Dijon increasing by 700%. For cats, the name Baguette saw a 600% increase, as did Raclette with 300%.
Overall, top spot
for female dogs went to Bella, followed by Luna, Lucy, and Daisy. The most popular name for male dogs was Max, then Charlie, Milo, and Buddy. At least 61% of pet owners said they'd given their pet a "human name."
"We all want
our dogs to feel loved or feel special, so that happy feeling is really important, and that comes with a name," quipped Ellis.
[via
CNN
, cover image via
Cunaplus | Dreamstime.com
]
Receive interesting stories like this one in your inbox
Also check out these recent news