Don't miss the latest stories
Share this
'Talking' Cats May Finally Tell Humans What They Really Think Via Buttons
By Ell Ko, 17 Dec 2021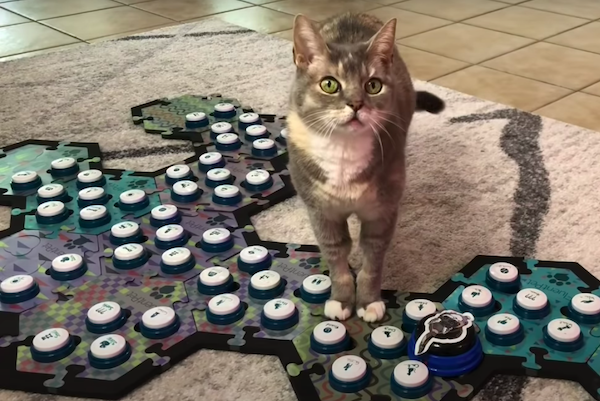 Image by Billi Speaks and featured with permission
A common sentiment
among pet owners and lovers is the wish that our pets could talk. Apart from being a welcome change to having to rely on guessing to meet their needs and wants, it'd also be pretty interesting to know
what they have to say
to us.
Well, it turns out
that pets
can
talk. Although it's not in the way humans communicate, it's definitely bridging the gap between the two species.
Take Billi, for
example. This 13-year-old domestic cat has amassed hundreds of thousands of followers on
Instagram
and
YouTube
for voicing her opinion on various subjects—like many human counterparts.
Billi communicates
with her human, Kendra Baker, through an augmentative and alternative communication (AAC) device. This is a soundboard that comprises different buttons, each triggering an audio recording of a different word. By pressing the different buttons, Billi can communicate in human language.
This started in May 2020,
when the pandemic allowed Baker some spare time. Baker learned of Christina Hunger, a speech language pathologist who discovered her dog Stella could "speak" using AAC.
After seeing a few
other well-known "talking animals" on social media, Baker decided to try it on Billi despite not having seen other felines try it out before.
The buttons were
"quite large for a little tiny kitty, and I was not sure that she was actually going to be heavy enough to press them," Baker explains to
Salon
.
"So I started with
a word that I'd really not recommend that you start with, which is 'food,' because it becomes very motivating for them. And Billi loves food."
Today, more than
a year later, Billi has amassed 51 words in her arsenal. Some of these include "oops," "want," "love you," "TV," "noise," and "happy," to name a few. She's also now part of a wider research project studying talking animals, aptly named
TheyCanTalk
.
Another internet celebrity
part of this research is Bunny, a talking dog, who has 7.2 million followers on
TikTok
at time of writing. Interestingly, it has been noted that dogs like Bunny prefer to put together full sentences when using the AAC, while Billi tends to favor single words.
As for whether
Billi understands what the words actually mean, Baker explains that it's not known for sure. "I don't think we can answer the depth of understanding with the current amount of information we have," she writes on Billi's
website
.
"All we can say
is 'does she press the button in the correct context the majority of the time?' For the most part, the answer to that is yes. Overall, it's great enrichment, and Billi really enjoys it. So that's enough for me."
[via
Salon
, video and cover image by
Billi Speaks
and featured with permission]
Receive interesting stories like this one in your inbox
Also check out these recent news