Don't miss the latest stories
Share this
There's A Mountain Of Mannequins Just Waiting To Be Picked Up By Strangers
By Mikelle Leow, 07 Jan 2022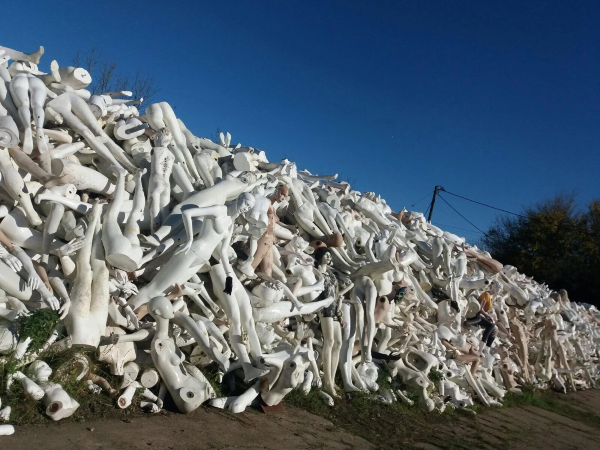 Standing near a mannequin during closing hours is an eerie-enough feeling, but try walking by a whole pile that's literally stacked feet high.
In a rural part of Lincolnshire, England, there's a 20-foot-tall "mountain" of dummy body parts that people from all over Europe add to after no longer getting any use out of them.
The mannequins come in all sorts of conditions when they arrive, and the people overlooking this stack fix them up and give them a fresh coat of paint to look as good as new, rewriting their destinies of being nothing more than consumer waste.
This surreal place, bearing resemblances with a scene from Slender Man, is called Mannakin Hall. Its director, Roz Edwards, has spent about 15 years taking in discarded mannequins, and the collection has gotten so massive they now have a property of their own. To date, some 25,000 figures live here after retiring from their former duties in fashion, film, and more.
"Manna" means food from heaven, and "kin" is short for kindred spirit, the owner told YouTuber Tom Scott in a new mini-documentary. The mannequins came pouring into her life almost as gifts during a time of emptiness, said Edwards.
Visitors can find nourishment in a similar fashion. For £50 (US$67), they can partake in a "drive-through body part heist" and fill their cars with as many dismembered pieces as they can in 15 minutes.
Beyond the roles of shop display objects, the sculptures are serving other creative purposes in their new lives. Edwards told CBC Radio's Day 6 program that visitors have upcycled the mannequin parts into planters and lampstands.
"The most popular bits are a female torso, usually headless so that they can fit the lamp fitting at the top," she added.
[via Colossal, Atlas Obscura, Tom Scott, CBC Radio, cover image via Mannakin Hall]
Receive interesting stories like this one in your inbox
Also check out these recent news