Don't miss the latest stories
Share this
'Pufferfish' Village Adapts Itself To Changing Conditions & Rising Sea Levels
By Ell Ko, 11 Jan 2022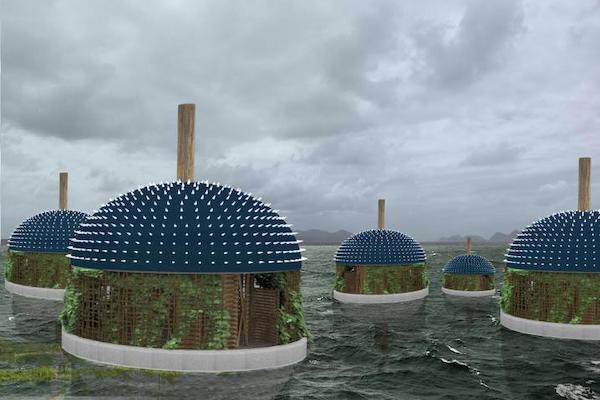 Ganvie is a lake village situated in Benin, Africa, with a population of around 20,000 people. Thanks to high water levels, most of the village's existing architecture is propped up on stilts.

However, the structures can't withstand rough tides well. This, alongside wear-and-tear over time, threatens the safety of its residents and their surroundings. With rising sea levels in recent years, a new, safer solution is required.

Hence the Puffer Village, a residential concept inspired by—you guessed it—the humble, quirky pufferfish.

Designed by architect Sajjad Navidi, this reimagines the village comprising a series of smart homes that can adapt to the rising sea levels while protecting their inhabitants. Like a pufferfish, which inflates itself as defense, the houses are able to somewhat similarly inflate and deflate depending on the surrounding conditions.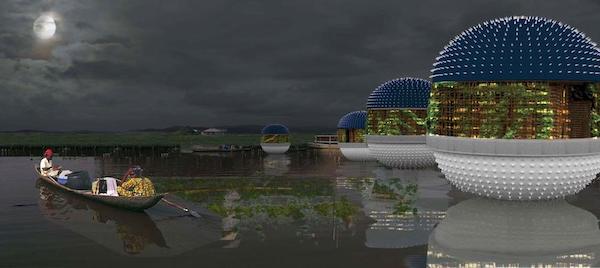 The system works "by increasing the volume and inflating its balloon skins with air during rain and tides when the sea level rises," Navidi explains in a statement to Amazing Architecture.

During stormy weather, "pores" on the base of the substructure are activated so the skins can fill themselves with water. While protecting against damage, this also increases the weight of the house, ensuring it doesn't accidentally move or topple.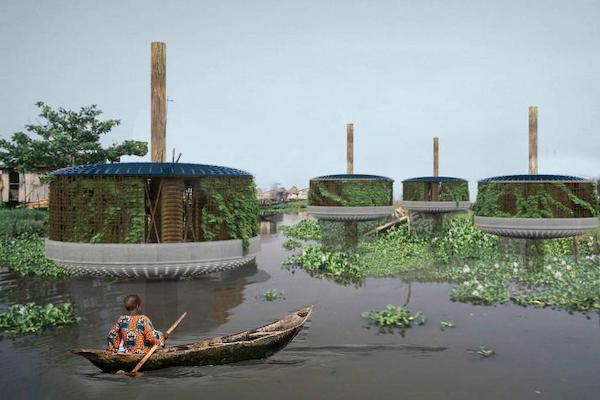 Detecting the change in conditions are two sensors: one is sensitive to rising water levels, and the other tracks waves. "In stable conditions, the balloon skins are closed and the structure is similar to houses with flat roofs," he details.

"But in conditions of tide and rain, sensors sensitive to water level control activate the air fan under the structure and the balloon skin is filled with air and the structure is placed on the surface of the water."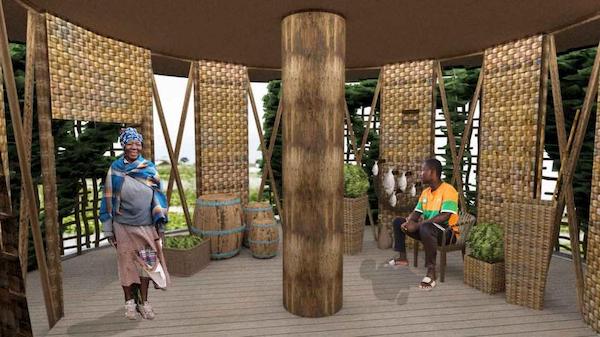 Completely clean and self-sustaining on the energy front, the houses power themselves via tidal energy, harnessing power from the waves around them. Part of the balloon skin also has solar equipment built in.

Around the houses are agricultural areas, created with an Aquaponic system. While this ensures the villagers will be able to grow their own crops, it'll also boost the local economy.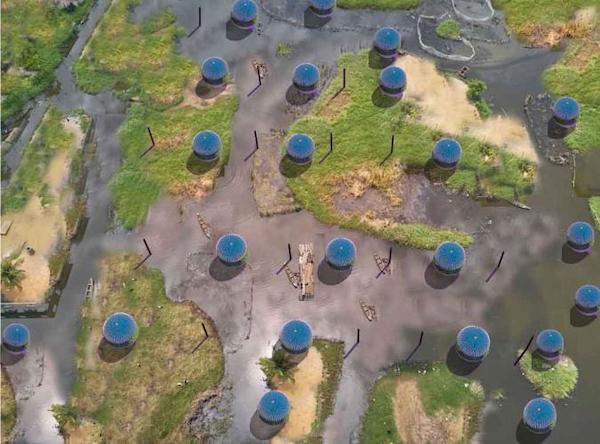 Navidi's concept was one of the top 10 projects featured in the Fondation Jacques Rougerie's Innovation for Sea Level Rise in 2021.
[via The Optimist Daily and Amazing Architecture, images by Sajjad Navidi and featured with permission]
Receive interesting stories like this one in your inbox
Also check out these recent news