Don't miss the latest stories
Share this
Paris Fashion Week Eco-Brand To Tote Change With 3D-Printed Sustainable Leather
By Ell Ko, 12 Jan 2022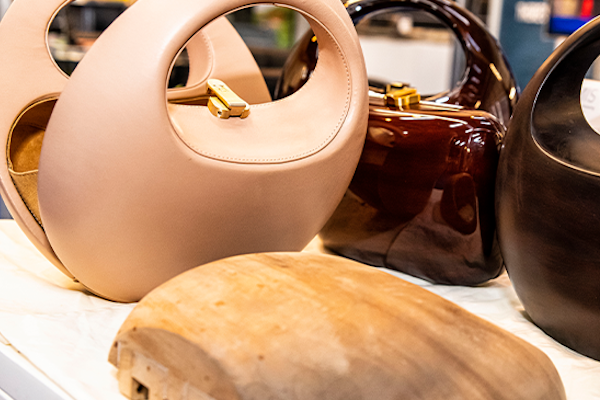 3D printing tech is about to hit the catwalk at the upcoming Paris Fashion Week, scheduled to begin on February 28, 2022.
Testing out a new 3D printing technique to manufacture sustainable leather handbags is the National Manufacturing Institute Scotland (NMIS), operated by the University of Strathclyde.

The ROCIO handbag, a result of a partnership between Scottish luxury eco-brand ROCIO and the NMIS, was created to explore sustainable manufacturing techniques.

ROCIO's signature bags are usually made out of wood, placing them on the fine line between sculptural art and fashion.

With the inner structure of the bag developed, it was then taken as a base for Atelier, a fashion business school in Spain, to create a fully structured leather handbag—a first for ROCIO.

Currently, the leather industry faces numerous problems when it comes to sourcing material, such as a questionable approach to animal rights and a large carbon footprint.

Besides being able to mitigate environmental consequences in production, the 3D printing method allows more room for customization. Manufacturing Global points out that this is due to 3D printing being a type of additive manufacturing, which is where one layer is added at a time.

This makes for an easier way to customize and add detail to the design of the product, which stands true for the ROCIO handbag as well.
Being able to design the product through 3D software not only reduces material waste during the initial developmental stages, it also reduces the time needed to reach the design and saves production costs.

"We're at the heart of sustainable fashion and take pride in each accessory being a uniquely creative masterpiece," says Hamish Menzies, creative director at ROCIO, in a press release.
"The pieces produced are works of art and this unique leather handbag concept delivers outstanding beauty in a structured art form which I believe pushes the boundaries of design."

"Exploring the use of a 3D-printed prototype is more cost, time and material efficient in the long term. Through using this technology, we are one step closer to improving our endeavours to be even more sustainable, whilst unlocking and embracing the future capabilities of our industry."

ROCIO also makes bags made with different materials besides wood, and now leather. Some examples include mother of pearl shell and wicker.
[via 3D Printing Industry and Manufacturing Global, image via National Manufacturing Institute Scotland]
Receive interesting stories like this one in your inbox
Also check out these recent news