Don't miss the latest stories
Share this
'Loki' Shares BTS Look At Alligator Loki Being Conjured Up From VFX
By Mikelle Leow, 12 Jan 2022
Like its protagonist, the Loki Disney+ series is a master of illusion. It's filled with elaborate visual marvels that have dazzled even the God of Mischief, like the trippy architecture of the Time Variance Authority.
Seven months after the series premiered, Lucasfilm-owned visual effects studio Industrial Light & Magic has shared a closer glimpse at the making of this VFX spectacle. Its new video centers around the penultimate episode Journey to Mystery—possibly the most dramatic episode in Loki since it introduces the End of Time Void, along with the variants Kid Loki, Classic Loki, Boastful Loki, and the arguable star of the show: Alligator Loki.
The creature doesn't speak, but he's identified as a Loki by the strap-on horned helmet. Even though there's a chance he isn't actually a variant of the Asgardian prince, with a face like that, no one can deny him of his lordship.
If, like many others, you thought Alligator Loki was too precious to be true, you would be right. Industrial Light & Magic reveals that—instead of casting a trained reptile to make a splash in the show—it was able to create the alligator god out of nothing.
In certain scenes where actors had to work around Alligator Loki's presence, Lucasfilm would use a dummy. Apart from those, he was digitally conjured up in an empty tub.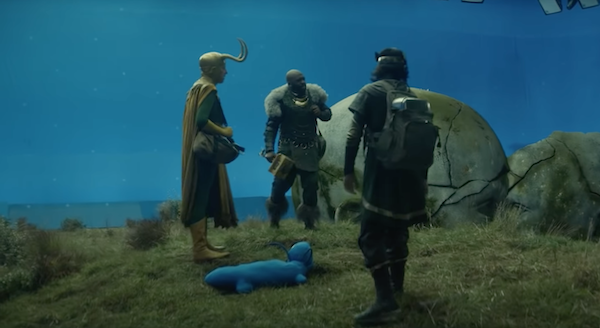 The episode's antagonist is the monstrous Alioth, a destructive storm cloud and guardian of the Void. That, too, required considerable VFX witchcraft.
Somehow, VFX artists still managed to squeeze in less apparent touches, like larger tufts of grass. It makes one ponder how far creators would go to embellish their work despite knowing that those details might never be noticed.
[via Gizmodo and Screen Rant, video and screenshots via Industrial Light & Magic]
Receive interesting stories like this one in your inbox
Also check out these recent news