Don't miss the latest stories
Share this
Black Hair Isn't So Horrible In Video Games Now With This Open-Source Library
By Ell Ko, 13 Jan 2022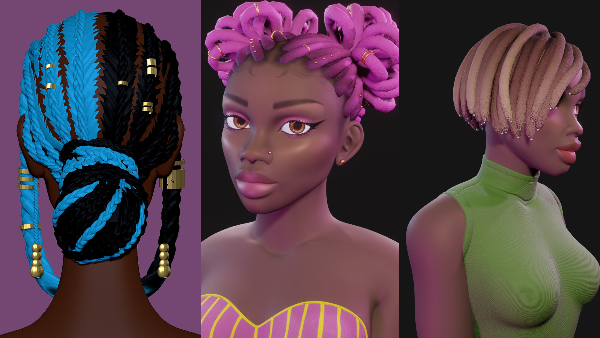 Video game character customization appears, at this point, to be a spectrum of its own.

On one end is creating the most outlandish avatar from the options available; on the other is trying to make the character look as much like the player as possible.

But the latter isn't always possible. Even until now, BIPOC players, in particular, may still struggle to find suitable options to express themselves in-game thanks to a lack of representation in the industry.

Hence the new Open Source Afro Library, a database of 3D-modeled Black hairstyles. This was created by A.M. Darke, an assistant professor at UC Santa Cruz and artist, and contributions are made by Black artists.

This library, scheduled to open Juneteenth 2023, will contain 3D assets that can be used in gaming, animation, and other similar ventures, per Vice.
"All of us can be caretakers, all of us can be stewards, all of us can look at the work and think about how to use it ethically and point out unethical practices," Darke tells the publication. "I want to create a space that's open for all Black folks to have this conversation about what we want this to be."
Stunning updo by artist @TimidClover as part of her 'Hey Queen' series for @afrohairlibrary. pic.twitter.com/PT8Ts3c3Jg

— Open Source Afro Hair Library (@afrohairlibrary) July 24, 2021
She wants the space to take "an anti-racist, anti-capitalist, and feminist approach to the portrayal of Black hair" while creating "a sense of unified ownership and investment in how the hairstyles are used."
Artist @TimidClover uses simple forms to craft these loc'd styles which are then meticulously adorned to create a look that's both regal and familiar. Work from her series 'Hey Queen' for @afrohairlibrary. pic.twitter.com/EEZxQQR9qW

— Open Source Afro Hair Library (@afrohairlibrary) July 24, 2021

Black Enterprise reports that the first round of artists contributing to the project was selected to each create a single character bust with nine accompanying hairstyles.

The design was left largely up to them, with guidelines being their personal creative inspirations as well as shared aesthetic and political goals for the library as a whole. The six 3D artists were given US$1,500 stipends for their designs.
We love the range of styles that feel both ancestral and futuristic in @Hdharris_irl's series 'Future Proof' pic.twitter.com/IGtVao0OzT

— Open Source Afro Hair Library (@afrohairlibrary) July 25, 2021

"In simply searching for any depiction of Black hair, users must scroll past crude racial stereotypes, and misogynistic representations of women," Darke writes in a blog post.

"The top 3 results for 'Black Hair' on TurboSquid are 1. A horse. 2. Another horse. 3. "Long Black Anime Female Hairstyle"—which is 30% a long black wig, and 70% a nude, hypersexualized 3D model of a young woman with exposed breasts."
It's clear that something has to change. "​​I am modeling the Open Source Afro Hair library as an impactful tool… that is explicitly designed to uplift and empower marginalized groups."
Artist @_EveningCicada reimagines the Aqrabuamelu, or "Scorpion Man," as part of their 'Afromythics' series for the @afrohairlibrary pic.twitter.com/UVKPvY9XXO

— Open Source Afro Hair Library (@afrohairlibrary) June 18, 2021
[via Vice and Black Enterprise, image ID 78793607 © Elizaliv | Dreamstime.com]
Receive interesting stories like this one in your inbox
Also check out these recent news