Don't miss the latest stories
Share this
Blimps Supported By The Public Will Bring Internet Coverage To Zanzibar
By Mikelle Leow, 13 Jan 2022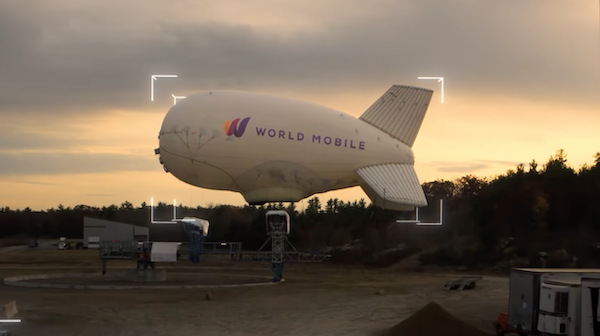 Digital illiteracy is a persistent problem in Tanzania, where only about 20% of the population uses the internet, as per figures published by the World Bank. Being digitally locked out from the rest of the world poses challenges that might not be immediately clear; aside from being restricted from educational resources, it also slows down productivity in the workforce and prevents youths from finding job opportunities.

"For a farmer, connectivity can open access to weather information, market prices and easier payment flows," details Sara Ballan, senior digital development specialist at the World Bank in a CNN profile. "For the economy, digital transformation is a driver of growth, innovation, job creation, and access to services."
Help is being flown into the Tanzanian islands of Zanzibar and Pemba, with digital access potentially being taken to new heights. UK telecommunications company World Mobile is piloting a mobile internet network in these test sites, made possible with aerostats, which are blimp-like internet balloons touted with the ability to offer "near-blanket coverage," reports the news outlet.
"We're building a cellular tower in the sky," says World Mobile engineer James Tagg.
A pair of solar-powered, helium-filled balloons will provide a 3G and 4G broadcast range of 44 miles each. They can float for up to two weeks before deflating and are able to endure winds of up to 93 miles per hour.
When they're being refilled, World Mobile says more blimps can take their place so internet connection will never die.

The aerostats will hover just 984 feet up, making them low-altitude platform stations (LAPS). At this height, they'll offer enough coverage for simple tasks like internet browsing and email. To support heavy-duty tasks like gaming and video streaming, CNN reports that a network of ground-based nodes is also being rolled out in 125 locations.
It's worth noting that World Mobile isn't the first to test out this type of technology in hard-to-reach zones. Facebook tried something similar with drones but shuttered the service in 2018. Then Google parent Alphabet launched internet balloons, and that bubble, too, was popped in 2021. Derek Long, who leads telecoms and mobile operations at Cambridge Consultants, deduces that the tech giants failed because they could not find ways to sustain the projects financially.
World Mobile's solution is a unique one: It's offering up the air nodes to private entities for an upfront price of about US$7,000, as per TechCrunch. This one-time fee can be recovered by earning rewards or income in the firm's own World Mobile Token (WMT) cryptocurrency.

A shared economy will lift some of the weight off the company's shoulders, who'd otherwise be responsible for footing the network's maintenance and security expenses.
For the farmers of these African islands, they would now have the option to own a slice of telecommunications infrastructure on top of just livestock, the firm's CEO, Micky Watkins, told TechCrunch back in November.
The first balloon is expected to lift off in June.

"Zanzibar represents a really interesting opportunity," Watkins shares with CNN. "It's approximately one and a half million people on the islands. It's like a small country."

[via CNN and TechCrunch, images via World Mobile Group]
Receive interesting stories like this one in your inbox
Also check out these recent news