Don't miss the latest stories
Share this
Tesla's Full Self-Driving Mode Disparaged In Wild, Full-Page New York Times Ad
By Mikelle Leow, 18 Jan 2022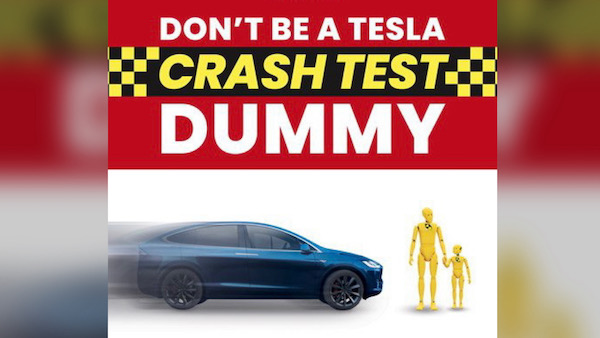 A barrage of complaints concerning Tesla's Full Self-Driving Mode has surmounted into one group taking out a full-page advertisement on last Sunday's edition of the New York Times paper.
The Dawn Project, a newly-established campaign fighting to get less secure software banned so as to prevent dangerous cyberattacks on essential systems found in "cars, the power grid, water plants, and chemical factories," called on readers to "Don't Be a Tesla Crash Test Dummy."
It lambasted the automaker for launching "the worst software ever sold by a Fortune 500 company"—a newspaper stunt that would involve no meager sum. On top of that, it said it would offer US$10,000 to the first person who was able to name "another commercial product from a Fortune 500 company that has a critical malfunction every eight minutes."
"We did not sign up our families to be crash test dummies for thousands of Tesla cars being driven on the public roads," the group insisted. On its website, it proclaimed: "Computers have become a grave threat to humanity since they have been hooked up to the internet together with every safety critical device. Ordinary commercial software was never intended to be used in systems which people's lives depend on."
The initiative's founder, Dan O'Dowd, happens to be the CEO of Green Hill Software, a rivaling firm that also builds automotive security systems. TechCrunch notes that although there is "potential competitive bias," the group is building its case based on several reports of the beta software going rogue.
Worth pointing out is that, instead of testing this feature on real vehicles, the Dawn Project is wholly backing up its argument with observations from "many hours" of YouTube videos—a move that's been criticized by supporters of Tesla. The footage supposedly shows real Tesla models encountering a "Critical Driving Error" every eight minutes or so. These include incidents of Teslas "disobeying traffic signs or signals," "making contact with an object when it could have been avoided," and "disobeying safety personnel or safety vehicles."
Taking out a full page ad in The New York Times to spread lies & doubt about Tesla Full Self-Driving is a new low... pic.twitter.com/VPvCYtnygB

— Jeff 💙✌️ (@JeffTutorials) January 16, 2022
The group is now calling for the feature to be "removed from our roads until it has 1,000 times fewer critical malfunctions."

Tesla's CEO Elon Musk snidely dismissed the accusations put forth by the advocacy group, dissing O'Dowd's Green Hills software and declaring: "Linux [for the win]."
The car company hasn't claimed the technology to be perfect, however, and Musk previously even warned that the software—still in beta—was "not that great [in my opinion]" and that drivers should "please be paranoid" when the mode was activated.
In spite of its problems, at least one silver lining seems to have arisen from the introduction of the Full Self-Driving feature. Last month, it was reported that a woman's water bag had broken while she was in her Tesla. With all systems go and no time to rush to the hospital, she and her husband had no other choice than to switch on the technology so as to personally deliver her baby.
[via TechCrunch and autoevolution.com, images via The Dawn Project]
Receive interesting stories like this one in your inbox
Also check out these recent news