Don't miss the latest stories
Share this
Shutterstock Reveals 2022 Creative Trends Encapsulating Our Time & Space
By Ell Ko, 21 Jan 2022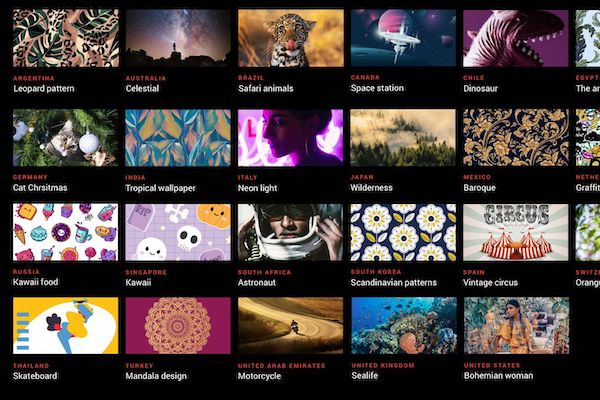 As we settle into the new year, we begin to get a better picture of our visions for the next months ahead. Being able to visualize these often help, and stock photography firm Shutterstock's annual Creative Trends report may just help to give users that added boost.

Six 2022 Creative Trends, derived from analyzing image search patterns & data, are highlighted in this report—all of which fall under the broader categories of 'Time' and 'Space.' "The pandemic has dislocated the concept of time for many; as days dissolve together, the passage of time is processed differently," the press release writes.

"Shutterstock's data shows that in 2022, creatives are expected to visualise this overarching sensation of losing track of time and space through entering new realms, eras and possibilities."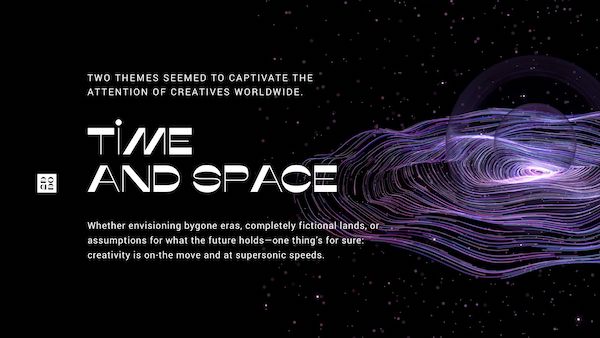 Of course, with the metaverse rapidly expanding, the anticipation at traversing new ground—that has the potential to rework the way we think of these two concepts—builds up, too.

"When we took a closer look at what the global Shutterstock community is searching for, it is clear that 2022 is set to be a year defined by pushing traditional boundaries and exploring the unknown," Flo Lau, Creative Director at Shutterstock, states.

"There is a sense of wanderlust and a desire to explore the fantastical and the uncanny, and this year's trends captured just that … This year is ready to test the boundaries of our imagination."

Fantastic
14th century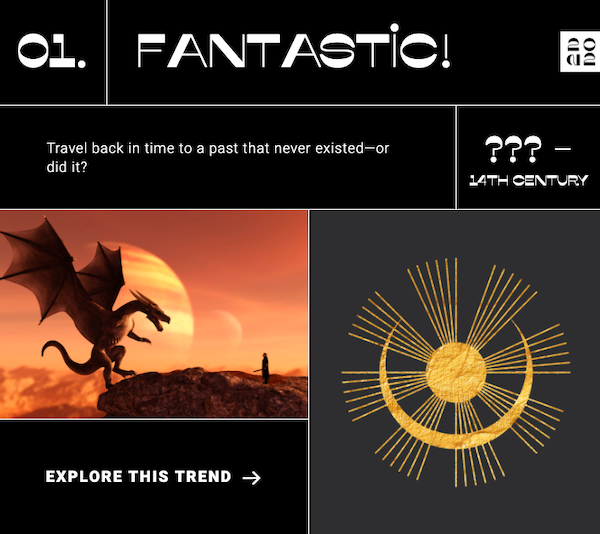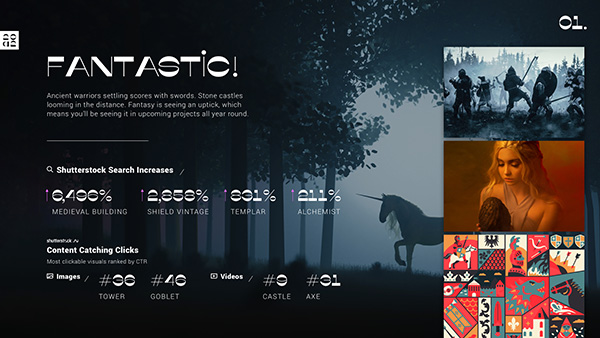 The medieval era continues to capture attention, with towers, goblets, castles, and axes getting the most clicks, as noted by Shutterstock.ai data.

"Keywords such as medieval building (+6496%), vintage shield (+2858%) and templar (+831%) have seen a drastic uptick, as creatives and marketers turn back time to revisit a realm of drama and adventure."
The Macabre
15th to 17th centuries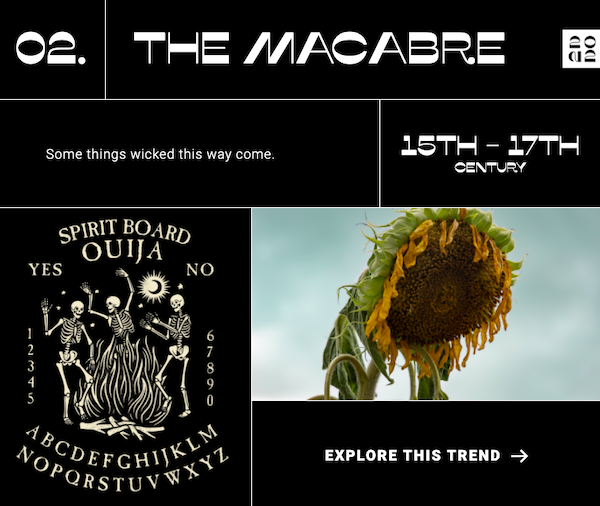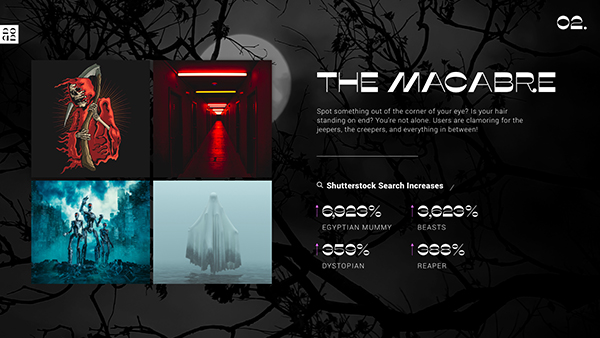 The futuristic metaverse is upon us. It could go well, or end in chaos. And there's apparently a not-so-silent thrill in seeking out our potential futures: "dystopian" and "apocalyptic." But of course, there's the classic creepy too. Who could resist?

"Spooky elements like Egyptian mummies (+6923%), beasts (+3623%) and reapers (+388%) aren't just for Halloween." Plus, "the genres of horror and thriller are making a comeback."
Way Out West
18th to 19th centuries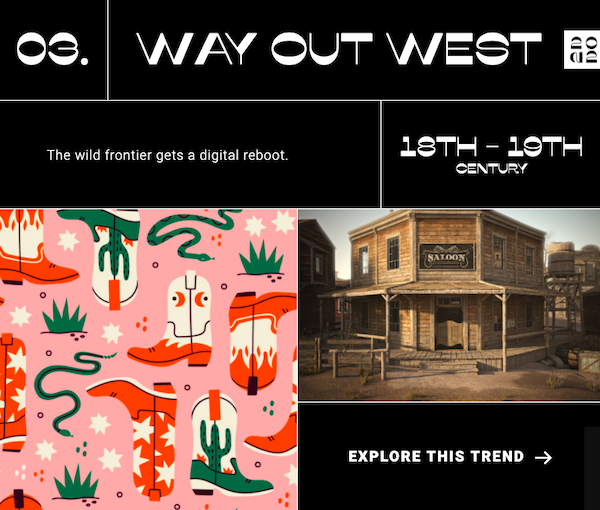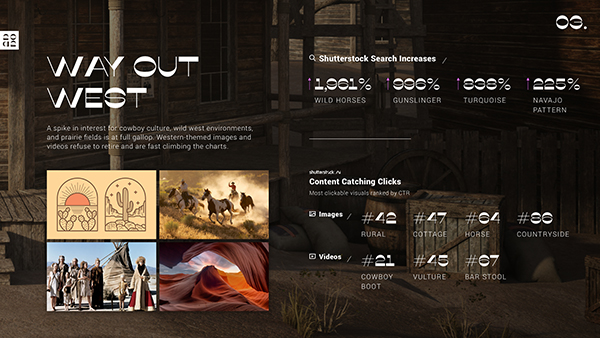 Cowboy culture isn't dead, and it's not just the Wild West that it continues to thrive in. There is, according to Shutterstock data, a "spike in interest" in environments such as the expanse of a prairie field.

The search for wild horses rose by 1961%, and Navajo patterns have also seen a 225% increase in interest over the last year.
On The Road Again
20th century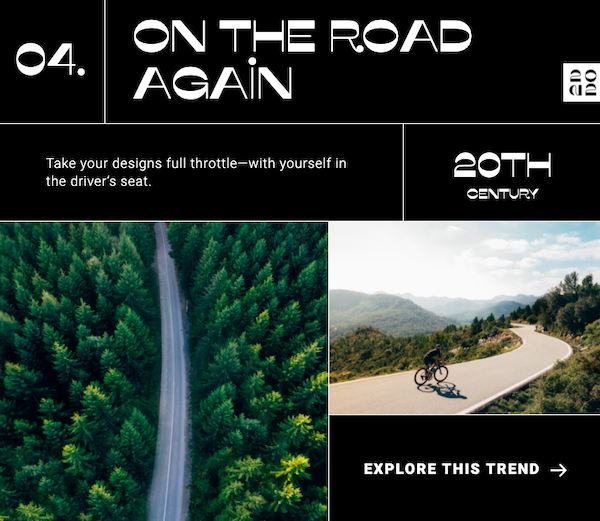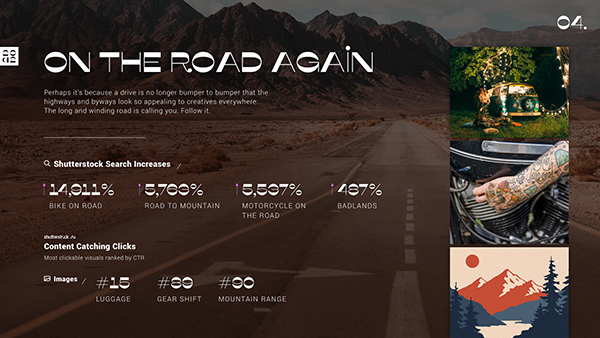 Perhaps in a bout of pandemic-induced wanderlust, users have been looking over the horizon into lands beyond the everyday. Physically, it might not be possible to travel, but there isn't any limit on the mental voyage.

"Users are searching for bikes on the road (+14911%), roads to mountains (+5763%) and the badlands (+487%) in an effort to explore unknown territories and paths less frequented from the comforts of their own homes."
Cyberpunk Is Not Dead
21st century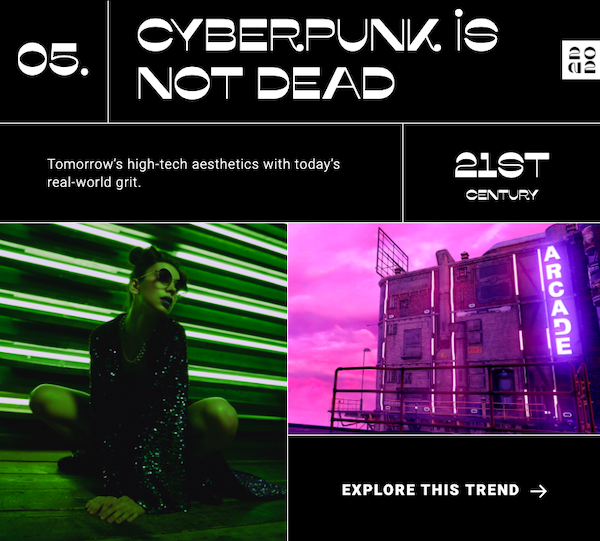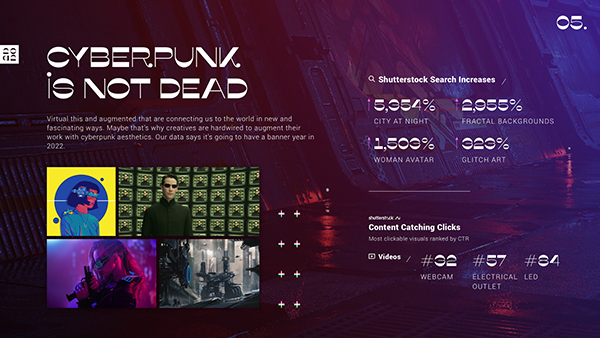 And we are certainly working our own way into the future. Electrical outlets, webcams, and LEDs intrigued the most users in their searches, endeavoring to break technological barriers as we know them.

"It is no surprise that creatives are turning towards high-tech aesthetics such as nocturnal cityscapes, fractal backgrounds (+2955%) and woman avatars (+1503%) to keep up with the changes."
What's Cookin'?
Modern era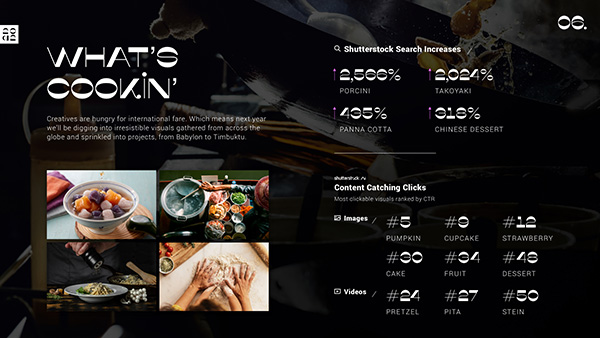 We've been spending more time at home than ever before, and at times, eating out might've been impossible thanks to lockdowns and public health guidelines. And to switch up the stay-home routine, some new flavor can be injected into our everyday life by trying a new recipe.

"Searches for regional specialities and ingredients such as Porcini (+2566%), Takoyaki (+2024%) and Panna Cotta (+435%) are on the rise, as creatives and marketers look for gastronomical inspiration near and far."

Localized trends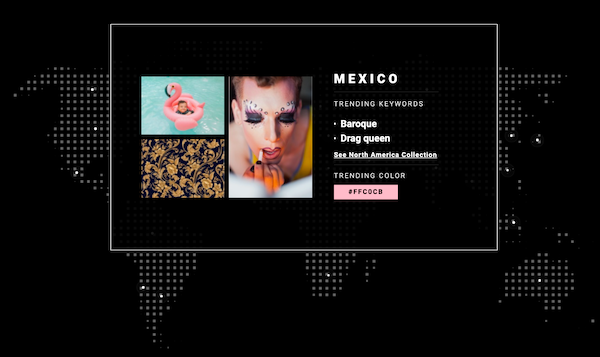 Apart from the fascinating global trends Shutterstock has noted throughout the last year, the company has also compiled trends customized to some of its top markets.

Areas like Brazil, France, Japan, the US, and the UK have their data explored, with the country's top three "upcoming trends" highlighted.

All of these trends are predicted to dominate creative projects, marketing, and endeavors this upcoming year. It's safe to say that we'll be starting to spot them around pretty soon.
To find out more about the Creative Trends report and view the inspiring images, head on over to Shutterstock's interactive website.
View this post on Instagram
[via Shutterstock]
Receive interesting stories like this one in your inbox
Also check out these recent news