Don't miss the latest stories
Share this
3D-Printed Goggles & Sleeve Help Blind 'See' Via Vibrations, Even In Darkness
By Ell Ko, 25 Jan 2022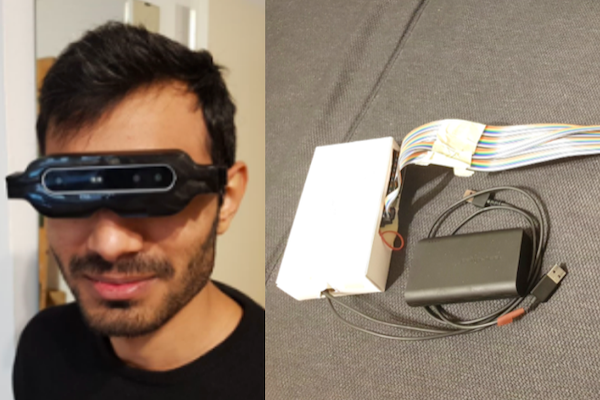 There have been some innovations working on helping the blind to navigate the world a little easier, and scientists from the Technical University of Munich (TUM) have just devised another.

This device is a pair of infrared goggles hooked up to a series of vibrating pads to be worn on the user's forearm. This will apparently help them to avoid obstacles when moving around a space.

A pair of infrared cameras reside within the 3D-printed goggles, which capture a "stereoscopic" image that is then transferred to a small computer. A map is created of the user's space, which is then programmed into the vibrations that are felt on the haptic sleeve.

For example, if the user is walking through a room, the sleeve will vibrate more intensely as another person passes close to them, as opposed to lighter feedback if the other is on the other side of the room.

Interesting Engineering likens the haptic feedback to something you might feel when playing a video game. When the user approaches an obstacle, the sleeve begins to vibrate. If they draw closer, the vibrations increase in intensity.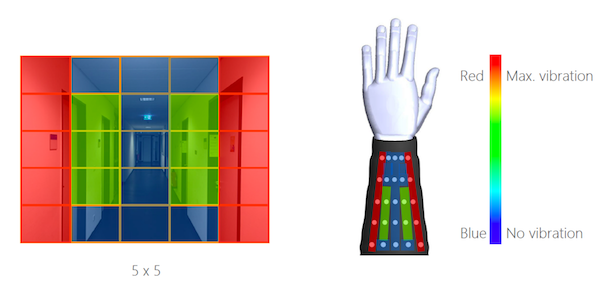 Researchers Manuel Zahn and Armaghan Ahmad Khan detail the invention in a new study published in a preprint on the server arXiv.
In the paper, it was highlighted that despite all the inventions that technology has brought about recently, the best—and most commonly used—tool that assists the blind in navigation is still the cane.

Since part of this new device is worn on the user's forearm, it'll allow users to keep their hands free for other things—a perhaps welcome change from always having one hand occupied by holding the cane.

And because the goggles work on infrared, it'll also mean that users will be able to navigate even the dark. This opens the device up for use in not just the visually impaired, but in situations where navigating in pitch black may be necessary.

In testing, volunteers reported that vibrations were easier to recognize when they're over "muscular regions" of the forearm, but they're "best recognized" when they're closer to the wrist.

Even in the first run, all five participants were able to successfully complete the obstacle route.

In a further development, the device could also include the technology required for voice control. According to the researchers, the system is "already prepared" for this implementation.

"Overall," they conclude in the paper, "the system is a promising approach towards providing more independence for the visually impaired."
[via Interesting Engineering and Tech Xplore, images via Manuel Zahn and Armaghan Ahmad Khan / arXiv]
Receive interesting stories like this one in your inbox
Also check out these recent news