Don't miss the latest stories
Share this
If Famous Brands Existed In Medieval Times, These Would Be Their Logos
By Mikelle Leow, 25 Jan 2022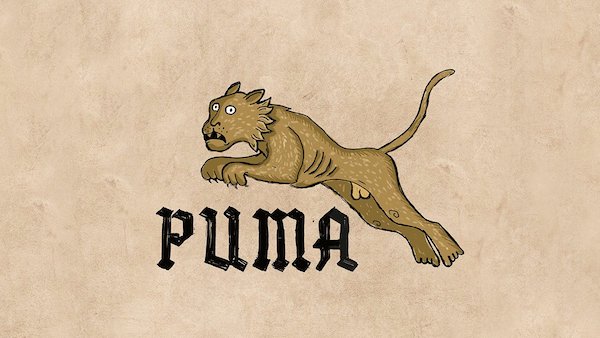 Back in the Middle Ages, people would attend traveling puppet shows and play chess for entertainment, and got their pies from bakers who wheeled portable ovens down the street. These days, amusement comes in the form of Instagram and food can be taken to go at fast-food restaurants and your local Starbucks.
It's difficult to visualize what day-to-day life was like in medieval times, what with the immediate gratification we take for granted these days. Russian graphic designer Ilya Stallone bridges past and present with Medieval Branding, a project reimagining modern-day logos in an olden aesthetic reminiscent of medieval manuscripts.
Burger King in Russia was so taken by a not-so-peachy visual treatment of its branding, it shared the work on social media.
Спасибо, Илья @ilya_stallone. Скинули начальству на согласование pic.twitter.com/16auJDp8MP

— BURGER KING®Russia (@burgerkingrus) January 24, 2022
The grotesque art style of the times lends a touch of dark humor to today's logos. For example, the Lacoste crocodile is envisioned to be scarfing down a man, while two kings get the brutal punishment of being made into a sandwich. Not to mention, faces are always hilariously deadpan, even if the mascot is a green-attired siren luring sailors into an inn.
Gawk at historical remakes of beloved brand logos, and explore more of Ilya Stallone's art on his Instagram and Twitter.
Image by Ilya Stallone and featured with permission
Image by Ilya Stallone and featured with permission
View this post on Instagram
Image by Ilya Stallone and featured with permission
Image by Ilya Stallone and featured with permission
Image by Ilya Stallone and featured with permission
Image by Ilya Stallone and featured with permission
Image by Ilya Stallone and featured with permission
Image by Ilya Stallone and featured with permission
[via r/LogoDesign, images by Ilya Stallone and featured with permission]
Receive interesting stories like this one in your inbox
Also check out these recent news